Schuylkill Leagues cancelled- swim and dive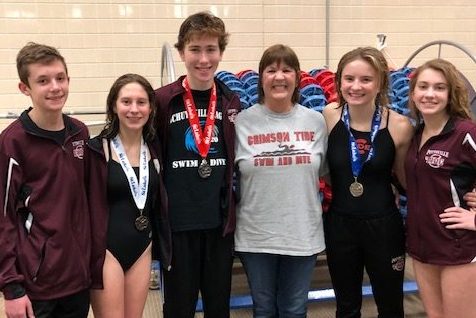 Due to the  COVID-19 outbreak, the 2021 Schuylkill League Championships were canceled for the swim and dive teams. Many fans, athletes and coaches look forward to this event towards the end of every season. Numerous hours are put into training for the swimmers and divers 
The Schuylkill League Championships for swimming and diving were scheduled for February 7th and 8th. The announcement that leagues were canceled was announced in early January. Many athletes are in disbelief that this important event that they look forward to at the end of every regular season isn't going to be occurring. 
Sophomore Carly Mohl said, "The League meet is my favorite meet of the season. We all get to rally together through an amazing pasta dinner the night before and other team bonding. The whole team is really feeling the effects of not being able to rally together."
Many seniors were let down by this news because it would have been their last Schuylkill League Championship. 
Senior swimmer Indiana Raess-Sausser said, "At this year's leagues I wanted to get my personal best in the 200." 
Senior swimmer Zaidian Vanorden said, " I was looking forward to possibly breaking a few records and getting better times on my events."
Many of the seniors will cherish the memories the Pottsville Swim Team allowed them to make in their four years such as breaking school records, beating their times, and the unbreakable friendships people have made. 
Debbie Logothetides has been one of the coaches for the Pottsville Area Swim and Dive team for the past 6 years. She will no longer be coaching after the 2021 swim season has concluded. She hopes next year that the team will have a bigger boys and girls swim team. 
Leave a Comment