Yearbook
The Hi-S-Potts 2020 yearbook is already partially printed and will still be distributed to those who have preordered and paid. When we have a distribution date confirmed with the publisher and school administration, we will post instructions for pickup (and how to complete partial payments). Thank you to everyone who ordered!!
Thanks to support from our generous business sponsors and the hard work of our Publications marketing team, we are happy to be able to offer the 2020 yearbook at a lower price than in 2019! Additionally, we have been able to significantly reduce the price of senior ads! Please check out the link below for more information and an order form.
Questions about o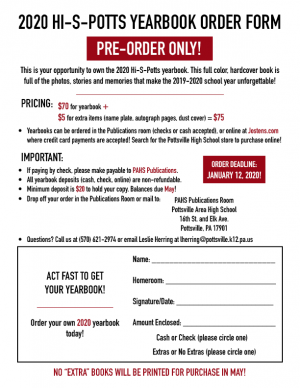 ur publications should be directed to Publications Adviser Mrs. Amy Babcock at [email protected].
A reply will be sent to all emails. (If you email and do not receive a reply, please call. Your email may have been unrecoverable from the spam filter.)