Senior Portraits
IMPORTANT NOTE: This message applies to students who will be seniors for the 2022-2023 school year. (It does NOT apply to students who graduated in May of 2022.)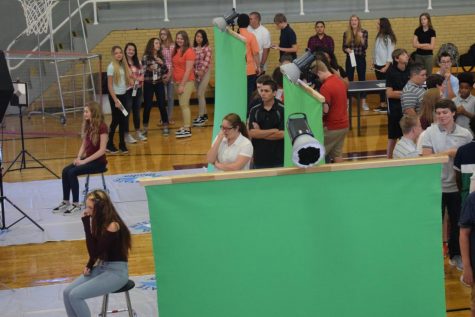 Senior Portraits
All senior portraits taken by a private photographer for publication in the 2021 Hi-S-Potts yearbook are due to the Publications team by Friday November 4, 2022.
Seniors who choose not to submit a senior portrait will be pictured in the 2023 yearbook with their school photo portraits.
In an effort to help those who may need assistance finding a local professional photographer, this message contains information from photographers that have served the PAHS school community reliably for years. However, students are free to choose ANY professional photographer (who is able to follow the requirements listed below) for their portraits.
Submission Requirements
Photos can be submitted (in digital form) by emailing [email protected] or bringing a drive containing the photos to the Publications room at PAHS.
Photo Requirements
The background of the portrait must be a NEUTRAL solid screen – no textured backgrounds (like brick walls) or any taken outside.
The background should be a different color than the color of the student's clothing. (Do not use a black background with a black sweater.)
The pose must be a formal portrait pose. (No chin on hands, holding a rose, etc.)
No black and white photos. (Must be color.)
Dress Code Requirements
All students should be formally dressed.
Boys must have a collar.
Girls may wear a formal sweater or top (v-neck, crewneck, turtleneck, etc.).
All tops must be one solid color. (Darker colors and long sleeves are generally more flattering.)
No t-shirts.
Local Photographer Information:
Kphotography
Krista Bevan of Kphotography, LLC specializes in high school seniors and offers a full service experience with three different packages to choose from, as well as digital and professional print options. To view her work go to www.ilovekphotography.com and email [email protected] .
Ruby Laine
Hey Class of 2021, if you are looking for a photographer for all you senior picture needs, please check out my website at www.photographybyrubylaine.com.  You can also reach me at 570-449-2831 to talk about your session.  Now is the time to book your session for graduate.  This year I will be traveling to some new cool places for senior photos including Ocean City, Md for sunset and sunrise sessions!  Hope to hear from you soon.
Thanks so much,
Amy Dusel,
Photography by Ruby Laine
Michael's Photography
531 Garfield Ave.
Frackville Pa. 17931
570-874-1306
*** Senior Portrait Special ***
$25.00
Basic Photo Session
Yearbook Image
(Sent Directly To Your School)
*** FREE ***
1 – 4×6 Framed Portrait, Available in a Distressed gray or Classic black Wooden frame
Please call to make your appointment 570-874-1306
Marilyn Nagle Photography
marilynnaglephotography.zenfolio.com
(570) 449-2722
Full Senior session $400
That includes: Yearbook headshot  (including submission into your school yearbook), Indoor/outdoor location, Unlimited wardrobe changes, Edited photos on a CD. Printing rights
One 11×14, Two 8x10s. Three 5x7s. Twenty-four wallets
Yearbook Headshot $60
That includes: Yearbook headshot (including submission into your school yearbook), One 8×10, The option to purchase additional prints
Jeanie Purcell Photography
Jeanie Purcell Photography is a true professional photographer who has been in business for 12 years and specializes in senior portraits.
I offer studio work for high quality yearbook photos (don't forget, your yearbook picture will be the image that people look back on…forever). I also offer location work as well. Due to the Covid Pandemic, I am revamping everything I offer to streamline the entire process.
Just a bit of what you'll find:
Yearbook Submission $69 – a simple session which includes a professional studio headshot submitted directly to the yearbook. No changes of clothing.
Yearbook Only Package $199 – includes the basic studio session for those who want a good quality yearbook image and some prints. No changes of clothing.
Combo Studio/Outdoor Packages – details currently being worked out due to pandemic. Please visit my website for the most up to date information.
Jeanie Purcell Photography
570-399-5339