Diversity kickstarts the School Year
The Diversity club strikes again, but this year they have a whole lot in store. Last year, diversity members conveyed the need for a place of their own, to have meetings and progress toward getting the word out about the club.
Club organizer, Mrs. Maria Malek heard their plea and came to the rescue. Over the summer she set up an Amazon wish list for a diversity space. Many contributed to her wishlist and she went to work in the solarium along with Diversity Club members. It is filled with positive messages, quotes, flags and a box of fidget toys for people experiencing stress or anxiety.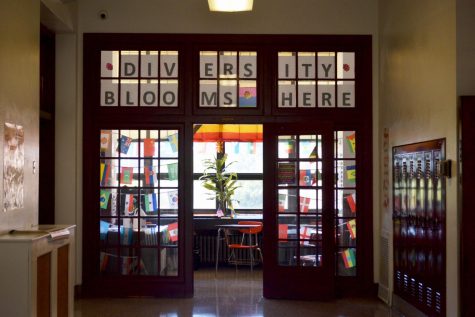 Mrs. Maria Malek said, "The Diversity Space is a visual cue to our student body that we are striving to be a welcoming, inclusive, open-minded campus. It's also a space where I hope we can conduct small meetings and peer discussions. Finally, I hope to brainstorm with Diversity Club members other uses for the space."
Madison Eroh junior, said, "I feel that it is a great asset to school. If someone is having a bad day they have the resources they need to get the help they need."
Bryonna Mimes junior, said, " Diversity Club allows members to find themselves and it's a support group that allows you to open up about things you never thought you would. The
Suicide awareness board is to those to understand we understand and to remind them that they matter."
The Diversity club seeks to bring awareness of social issues, create community events and prove that they're not just a club for the LGBTQ+ community, but a club designed for everyone.
Leave a Comment