Lending a Helping Hand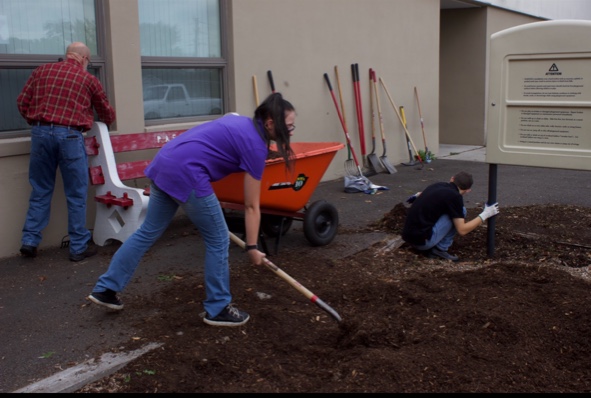 Ready, Set, PLANT. PAHS students, from Ms. Winkler's Life Skills class, had the opportunity to learn how landscaping works and the prerequisites needed for the job. As well as learning about landscaping, they lent a helping hand to PASD Head Custodian, Mr. Brad Ross and his crew. 
Students were taught about the uses of mulch and the nutrients it provides for plants along with other landscaping skills. 
Sophomore Victoria Lutz enjoyed her experience. Lutz said,"I loved that we got to landscape because it's different from everyday school activities and it's very fun.  I learned how to put mulch down properly and pull weeds."
Making the school a more enjoyable place to be at and getting a rewarding feeling once the tasks were completed was something life skills teachers hoped students would take away from this experience. 
"It makes the students happy knowing they support the workers of Pottsville and to help Mr. Ross who does great things for the school. The students received a sense of satisfaction and they loved being outside enjoying the sun," said Mr. David Hess, Life Skills Instructor. 
Another positive of having the opportunity to try out landscaping, according to students, was being able to connect with friends and make new ones.
Senior Jessica Ogden stated, "I had a great time with my friends from my Life Skills class. I made new friends as well as learning how to communicate better with other people." 
As for every high school student, thinking about career choices after graduation is a must. Landscaping was a possible career for some because of how much they enjoyed helping Mr. Ross.
"I think landscaping can be a good career for me when I'm older. I loved learning how to spread mulch and how to shovel it into a barrel. The shovel was very big, but it wasn't super challenging to use," said Ogden. 
Leave a Comment