Students Learn the Value of PRIDE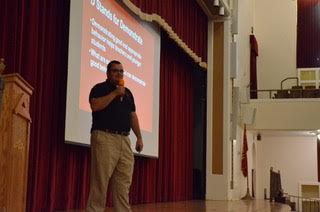 As students walked into the auditorium on Monday September 23, for the PBIS assembly, excitement was in the air. Freshmen were told to sit near the front of the balcony and the upperclassmen were told to sit in their assigned sections on the ground floor. Before it started, there were conversations about what this mystery assembly would be about. 
As everyone waited impatiently, Mr. Bricker walked on stage. "Mr. Bricker made the assembly fun," sophomore Camron Williams said. "I like how his presentation was short, but interactive." PRIDE can be a redundant subject, but Mr. Bricker made it enjoyable. 
Learning about what makes our school a fun and comforting place is essential to keeping it the way it is. The main focus of the assembly was to inform students of the guidelines and principles we adhere to at PAHS. For some, the PRIDE principle is brand new and others needed a refresher after the long summer break. 
"My favorite part was when Mr. Bricker had us yell out what pride means and what each letter stands for," said freshman Livia Hable. "I also learned what is expected of me to excel in high school." 
Showing these PRIDE principles can be rewarded. "We are always looking for different ways to reward positive behavior," Mrs. Tiffany Hummel Principal said. 
In the past there have been carnivals, basketball events and district wide pep rallies. To continue these exciting and stress-free activities, we have to show our Tide Pride by using the PRIDE principles. 
As the assembly concluded, many were energized and excited to start their day. PRIDE instructor Mr. Bricker inspired others to make good decisions throughout the year.