We Put the Pep in Rally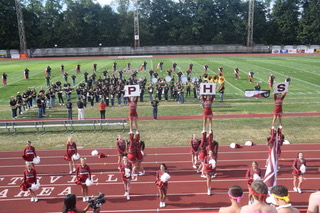 We can't hide our Tide pride! During a PAHS Pep Rally, the band plays, cheerleaders cheer and the students get pumped up for the football game held later in that day. On Friday September 23, 2019 the District held PASD's first District-Wide Pep Rally of the year! 
     Many students from John S. Clarke and DHH Lengel Middle School attended along with students from PAHS. 
    Austin Strokelitus, fourth grade student said, "P.O.T.T.S.V.I.L.L.E is my favorite chant because I do it for every other sport events and everyone is very loud when they do it."
     Ella Selinko, sixth grade student said, "My favorite cheer at the pep rally was Dig-a-Hole. It is fun to do the cheers with my friends."
      Pep rallies are normally held in the auditorium for PAHS students. However, the District Wide pep rally was held at Veterans Memorial Stadium. 
       At every pep rally there are skits performed by students, and cheers performed by the cheerleaders.The District-Wide pep rally included a skit called "Kick, Pass, Punt". One student threw the ball as far as they could, then the student waiting at the 50 yard line would punt the ball. The last student on the team tried to score a field goal. 
     Chris Hobbs, sixth grade student said, " I liked when the middle school did the Kick, Pass, Punt skit because they did a really good job." 
     Last year the school held a pep rally every Friday for the football season. At the last rally held August 30, 2019 the skit was sibling tag. The students who participated had to ask questions to their sibling and see who got more questions right than wrong. This year the administration cut down the pep rally schedule in half for many reasons. 
     Mrs. Tiffany Hummel principal said, "Overall participation in our pep rallies has declined. We find more students staying in classrooms instead of attending.  Students that do attend often talk throughout the pep rally rather than cheering. Very few have volunteered to participate in skits and other activities. We felt maybe there were too many and students got tired of having them every week.  We surveyed all of the county schools two years ago and found that the majority have 2 or 3. There are 6 this year, including the one prior to the start of the school. We are hoping that the students show more of an interest in continuing this tradition." 
      PAHS football team has a record of 6-1 and has advanced into the playoffs. This may leave PAHS students with more pep rallies and allow them to keep showing their Tide Pride!