Mini-THON v.s. Childhood Cancer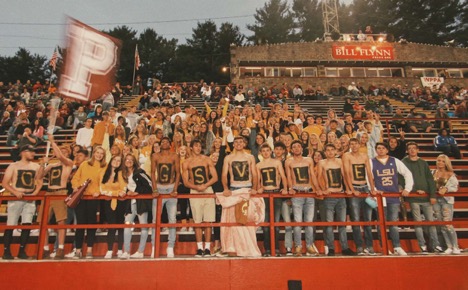 Mini-THON is at it again. Food is being sold throughout the community. Students in the student section are covered in gold during the football games. Dogs are possibly finding new homes. Rival schools are joining together for a cause. And we are only half way through the 2019-2020 school year. Members of Mini-THON look to not only make a difference in their school, but also to make an impact on the community by creating fundraisers and events in an effort to stomp out a devastating disease.
What is Mini-THON? Mini-THON is a year-long fight, year after year. According to the Four Diamonds Foundation, Mini-THON is an opportunity given to all students from kindergarten through 12th grade to be empowered as leaders in their community to join the battle against childhood cancer. During this fight, students will learn communication and problem solving skills, while learning how to promote creativity, spirit, and teamwork within their schools. This year-long journey helps students to engage in their schools and fundraise to stomp out childhood cancer.
Here's what they have done so far this school year:
Dog adoption at Barefield. Mini-THON brought something new to the table this year. During the summer of 2019, Mini-THON teamed up with the local SPCA and hosted a dog adoption fair at the Barefield Recreation Complex. "This was an event we have never attempted before, and it was an overall success," senior Jordyn Derbes, president of Mini-THON said. The club wishes for the dog adoption event not to be a once-and-done event, but an event that can continue on.
Tide goes gold. On September 13, 2019, the Pottsville Tide football team squared off against Crestwood High School and handed them a 42-12 loss. While entering the stadium, fans found members from Mini-THON canning at the entrances in an effort to fundraise for childhood cancer. Also, the whole student section gathered together dressed in gold, which is the color that represents childhood cancer. All the money collected was put towards their overall total for the year. According to junior Breyana Garman, an officer of Mini-THON, they also sold gold t-shirts for all the students to wear during the game and all the proceeds went to their end of the year total.
Capriotti's fundraiser. Mini-THON held a Capriotti's fundraiser this year selling multiple food items consisting of pizza, chicken strips, pierogies, pies and many more. It was an easy fundraiser and an easy way for the club to add on to their end of the year total. The fundraiser was an overall success.
Rivalry canning. The Pottsville and Blue Mountain rivalry continues to go on, and the two schools have joined together for the same cause. In an event orchestrated by Mini-THON, both schools have come together to participate in "canning" during the two basketball games they play each other as a way to fundraise for childhood cancer. However, the schools cannot work together without there being at least a little competition between one another. The schools challenge each other to see who can gather the most money at the end of the third quarter of the basketball game, and the school who fundraises the most money can win their team pizza.
Money raised. Mini-THON has a goal this year to raise $10,000 by the end of the school year. They stand right now at raising $3,000 so far and seem to be on track to hit their desired goal by the end of the year.
Impact on students. "As we raise money to defeat childhood cancer, our students learn valuable skills like leadership, time management, and service. This will benefit them as they move forward in their lives," Mr. Nathan Halenar, advisor of Mini-THON said. Participating in a club such as Mini-THON does not just affect the children in the world who may have cancer, but it also affects those who strive to stomp it out. Partaking in a movement such as this one can positively affect an individual and a whole school as well.
Find out more by checking out the PAHS Mini-THON Instagram: https://instagram.com/pahs.minithon?igshid=1sxqinvre3s9t