DHHL debuts "Crimson Cash"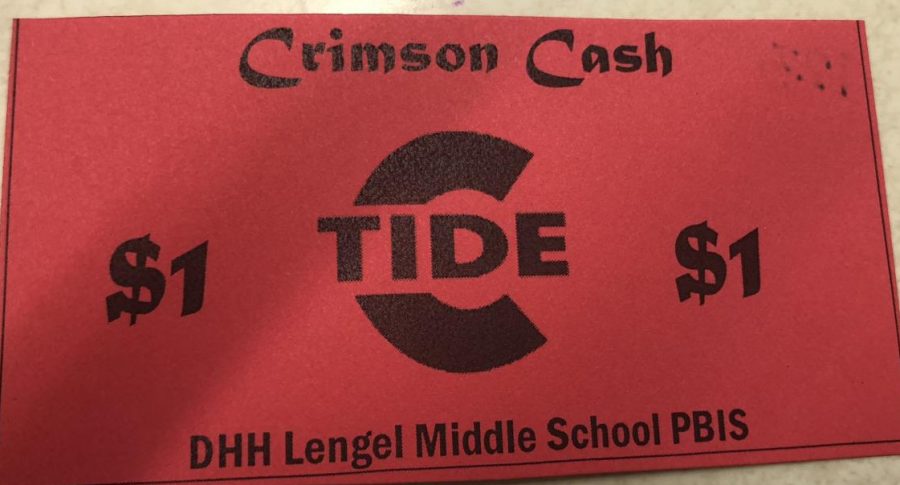 Last year, the PBIS program had two ways to reward good behavior: tokens and the Principal's 200 Club. This year, we have moved to "Crimson Cash," so here is all the information you need about Crimson Cash!
You can earn Crimson Cash by showing good behavior throughout the school. Once you earn it, you have the option to immediately spend it or to save it for something you really want. There are items worth one dollar, two dollars, three dollars, five dollars, and ten dollars right now. Teachers and staff members reward students with Crimson Cash for showcasing positive behavior. Pretty soon, you will even be able to earn Crimson Cash when you demonstrate positive behavior out in the community.
With one dollar, you can eat first in the cafeteria at lunch. With two dollars, you can go outside after eating lunch with permission from the teacher on lunch duty. You can also spend two dollars to get a student ticket to any athletic event by going to see Mrs. Holobetz or Miss Shappell. With three dollars, you can buy an ice cream in the cold lunch line during lunch or buy something from the Student Council Cart when it starts to come around during homeroom. With five dollars, you can buy a pretzel or an iced tea at the sale after school on Fridays in the lobby. Finally, with ten dollars, you can see Mrs. Holobetz or Miss Shappell to buy a Tide Pride t-shirt.
Last Friday, September 21, every student and staff member received a Tide Pride t-shirt. These t-shirts were generously donated by CACL Credit Union, so they were given to students and staff free of charge. We are very grateful to CACL for their donation. All students should wear their shirts this upcoming Friday, September 28, for our DHHL schoolwide pep rally, which will be happening in Martz Hall. If you wear your t-shirt on Friday, you will receive $1 of Crimson Cash. If you didn't receive a t-shirt last Friday, you will have one by the pep rally on Friday. You do not need to wear a collar under your t-shirt, but you should wear dress code appropriate pants. The junior high cheerleaders taught each grade the cheers earlier this week, so we know how to participate in the pep rally on Friday.
Crimson Cash is a fun new way to reward positive behavior here at DHHL. We are all looking forward to this week's pep rally and showing our school spirit in our t-shirts!