Fall Sports Recap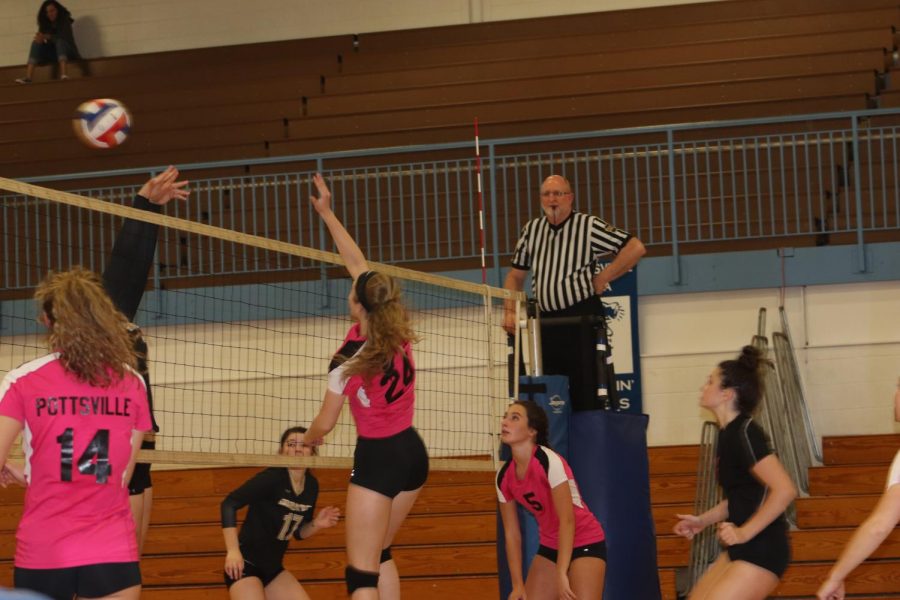 Football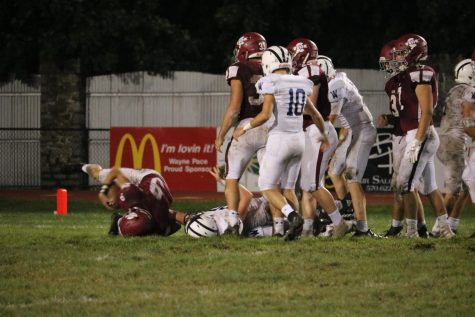 Aidan Moran
The football team turned in a 6-4 regular season record. This included a win in an overtime thriller against rival Blue Mountain by a score of 41-40 and a convincing 21-7 early season win over a favored Wyomissing team.
The first round of District XI playoffs for the boys was played at home against Bangor. Bangor was kept off the scoreboard the entire first half and was defeated 54-14. With the win, the boys moved on to face Bethlehem Catholic in the district semi-finals. Unfortunately, their season came to an end as they were defeated by Bethlehem Catholic 40-28. The team finished their season with a record of 7-5
"This season went well. Beating Blue Mountain was great, and so was making districts," sophomore Bobby Walchak said. "We have a lot of talent coming back next season, so hopefully we can win some more games and go farther in playoffs."
Girls' Volleyball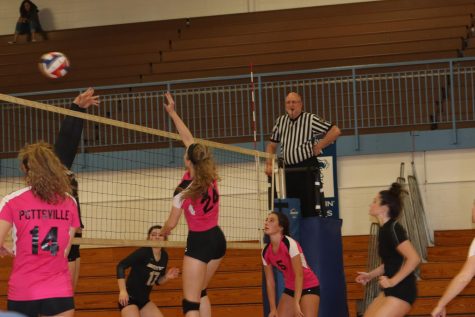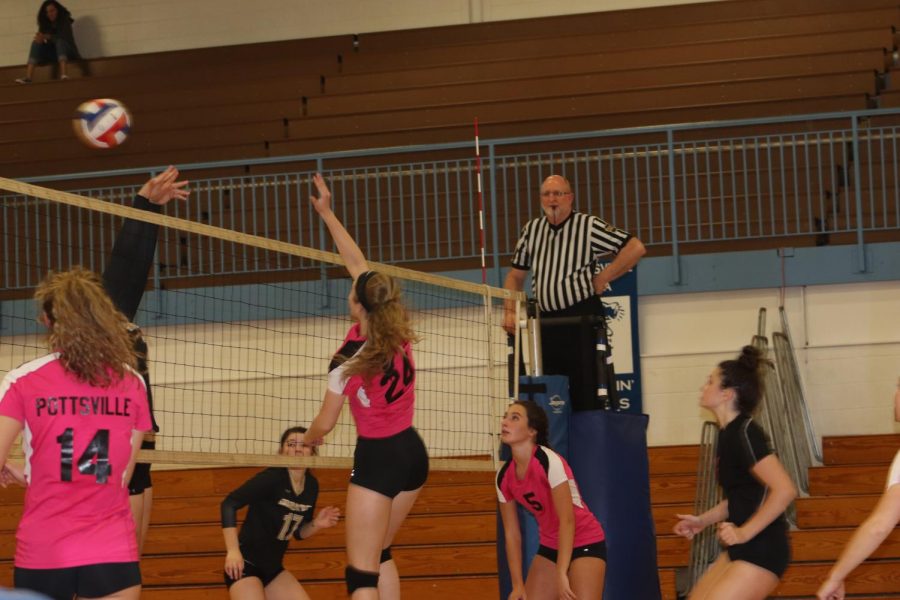 Caroline Gist
The girls' volleyball team ended their season with a 15-4 record. The girls went undefeated in league play to clinch the Division One title, which earned them a birth in the Schuylkill League playoffs. The undefeated division run included two five set victories over rival Blue Mountain.  To top it all off, head coach Maria Sherakas won her 300th game with a victory against Marian on September 13.
In the quarterfinals of the Schuylkill League playoffs, the team defeated Mahanoy Area three sets to none. The Lady Tide produced the same result in a semi-final win against Jim Thorpe. With the win, the girls punched their ticket to the championship but lost to Panther Valley three sets to one.
In the District XI playoffs, because of being the higher seed, the girls clinched a home game against Saucon Valley. The result was a three sets to none victory for the Lady Tide, which moved them on to the third match of the season against Blue Mountain. However, this five set decision went in favor of the Lady Eagles, which ended the Lady Tide's season.
"This season was one of Pottsville's greatest volleyball seasons in years," junior Elizabeth Rakus said. "We managed to beat Blue Mountain twice in the regular season, which we have not done in a very long time. We went to the league championship game and got second. I will miss the seniors next year."
Girls' Soccer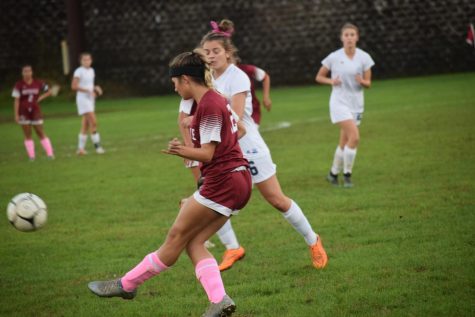 Aaron Salisbury
Due to heavy graduation losses, the Lady Tide soccer team was looking to rebound and contend for playoffs this season. The team did just that as they qualified for League and District XI playoffs. The girls' finished their league schedule with only two losses, both coming to Blue Mountain in double overtime.
Despite these losses, the Lady Tide clinched a playoff berth as the Schuylkill League Division One runner-up. The girls defeated Minersville 4-1 in the league semi-finals, setting up the championship game against Blue Mountain. The teams battled to a 0-0 score at halftime, but an early goal by Blue Mountain in the second half set the final score at 1-0, giving the Lady Tide the silver medal.
The girls earned the four seed in the District XI playoffs, which gave them a first-round home game against fifth seeded Bangor. The girls scored two second-half goals to win 2-0. This gave the team one last shot to beat Blue Mountain in the semi-finals. Unfortunately, the girls saw their season end with a 2-0 loss. They finished the season at 15-6-1.
"I couldn't have asked for a better season. I think this was a very successful year and we accomplished many of our goals such as getting into districts and making it to Schuylkill League playoffs," senior Sandy Day said. "Our team worked so well together because we all got along so well. As a senior, it's hard to say goodbye because I will miss playing with my teammates, but I'm so glad I got the opportunity to play with such a great group of girls."
Boys' Soccer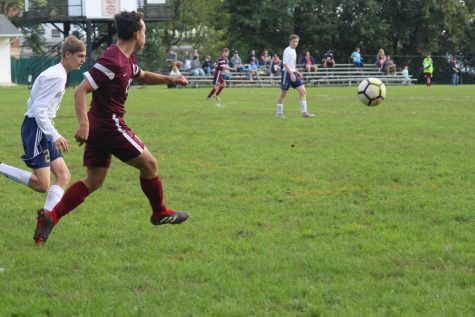 Aidan Moran
Coming into this season, the boys' soccer team was fresh off of their first Schuylkill League title season in 20 years. Unfortunately, they were not able to repeat this feat. The team finished their season at 6-10 and scored four league victories by defeating Lehighton and North Schuylkill twice.  
"This season didn't go as planned. Coming off of a Schuylkill League Championship, we all had high hopes, but we knew it wouldn't come easy," senior Patrick Ryan said. "We put forth our best effort this year, but unfortunately came up short. I am looking forward to see how future teams will do in the league."
Girls' Tennis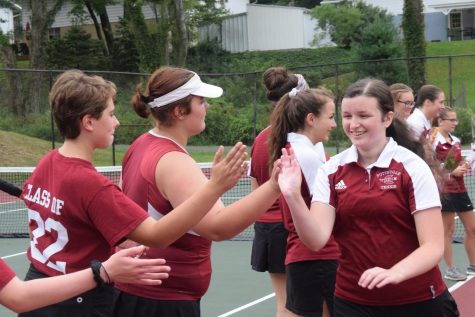 Zion Puyarena
The girls' tennis team finished their regular season with a record of 3-9. Seniors Victoria Oswald (single) and Lena Alexander and junior Brigid Kane (doubles) played at the District XI tournament held at Lehigh University. Oswald competed as a single while Alexander and Kane worked together in doubles.
"This season was wild, but not in a way I can quote," Oswald said. "I will miss making fun of Mr. Smink (head tennis coach) the most."
Golf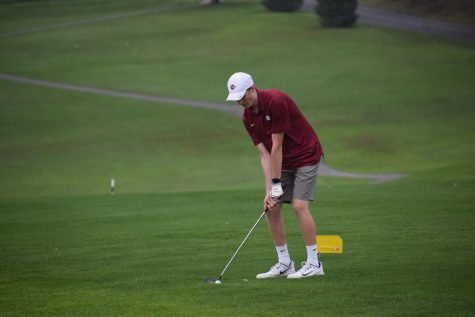 Jamilah Phillip-Johnson
The golf team finished the regular season with a 5-6 record. The Schuylkill League championship commenced after the conclusion of the regular season. Freshman Victoria Fuss placed fourth with a score of 128.
"It felt good to be a part of the winners in leagues since I practiced hard. That was the main thing I did to accomplish my goal; I practiced," Fuss said.
Cross-Country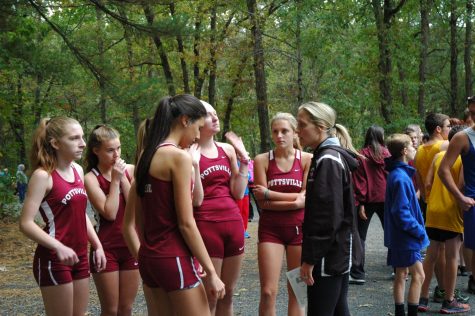 Allie McCord
The girls cross-country team placed first at the Schuylkill Haven invite.
      Kelly Lombel took over the head coach role for both teams this season. Lombel was an assistant to Barbara McGinley until McGinley resigned before this season.
      "Coach Lombel was great coaching varsity for her first year," senior Lauren Covely said. "She was a tough coach, but all the hard work makes for better meets and invitationals, which allows us as a team to become stronger."