AP Art Summer Spotlights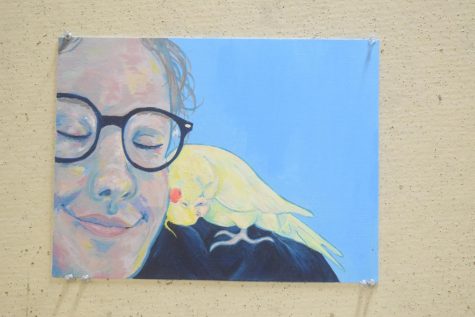 Molly Lubinsky 
Did your summer assignment have to be based on something or did you have certain guidelines you had to follow?
There weren't really any strict guidelines we had to follow. What we had to do was make a piece based on inquiry- so basically we had to ask a question and make a piece based on that question.
What made you want to include your bird? 
I really like birds. I think they look neat, and they are very colorful. They could be strange looking and have big personalities.  I really love my pet bird. And, since I decided I wanted to draw birds, I couldn't NOT draw him. 
How long did it take to come up with this idea?
It was sort of a last minute idea, so all summer. I was really indecisive about what I wanted to do.
How long did it take for you to make the finished project?
It takes really long to use acrylic paint because I'm not very good at it.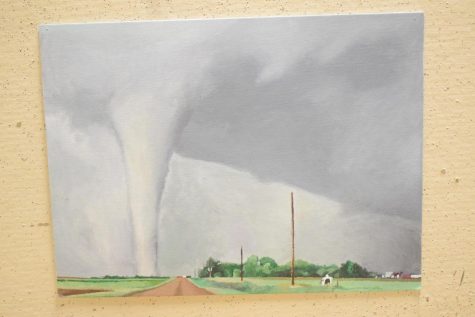 Caitlyn Kline
What inspired you to create this painting?
I have a passion for weather. Tornadoes are my favorite weather phenomenon. It was mostly inspired by a storm chaser that I've admired for about ten years.
Would you pursue art as a career?
Yes, I'm planning on majoring in illustration or studio art at Lebanon Valley or Allegany College. 
Is art your favorite subject? Why or why not?
Yes, mostly because I like to picture myself in a painting, and I want people to be able to see me as a person, especially since I have trouble communicating through words. I think art is a very good way to express myself and who I am. 
How do you find inspiration/motivation to create art?
Sometimes it's really hard to get motivation. It's not necessarily about finding the motivation; it's more so to pushing yourself to do these things and challenging yourself to get done these things, especially when it comes to deadlines for school. So, if anything, I think deadlines would be a big thing for my motivation because they inspire me and motivate me to get good grades and to challenge myself.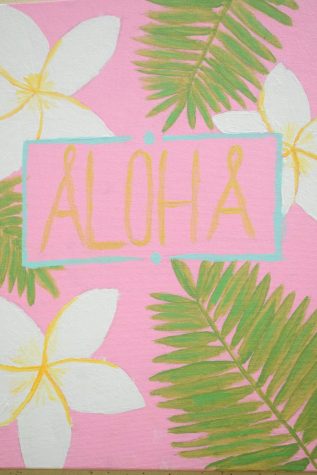 Shannon Strickland 
What was your inspiration?
Honestly I don't really know. I just like tropical things. The flowers were really nice and pretty.
How long did this take?
It took at least two days to make. I started at about 8 o'clock at night and worked on it more the next day.
Do you like how it turned out?
I could've spent more time on the painting. The palm (tree) turned out nice and I do think it turned out nice. 
What do you enjoy about AP art so far?
I like how I'm comfortable with everyone in there, so I can just talk to everyone.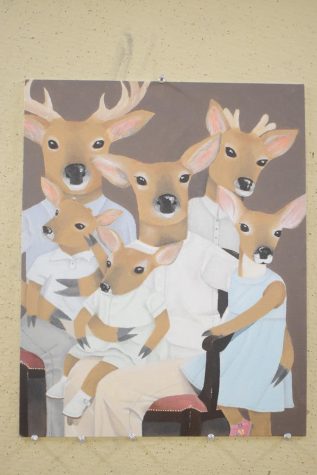 Reilly Babcock 
Where did you get the inspiration for your artwork?
I had inspiration from a portrait hanging in my house.
Why did you choose animals instead of humans?
I always loved animals and I'm going into a career with them.
Around how long does it take for one of your projects to be completed?
A long time; it depends but probably at least five hours, maybe more.
Why did you choose to take AP? 
My goal was to take all of the art classes in school.