PAHS Pep Rally Debate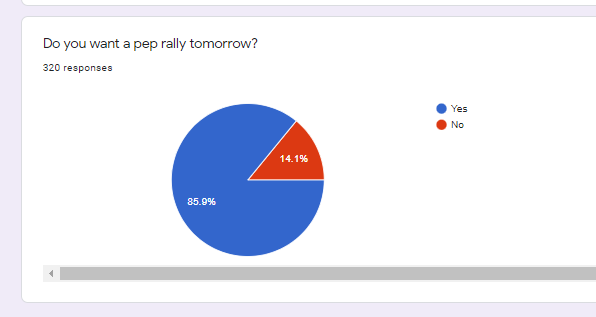 When you talk about Pep rallies there's three sides to the argument.Those in favor of pep rallies are people in favor of school spirit. People against the pep rallies who feel that the pep rallies are unnecessary. And then there's those who feel neutral about particular school events. In response to the controversy about having pep rallies, Pricipal Tiffany Hummel sent out a Google form for students to vote for a pep rally on November, 5 2021. According to announcements due to, the weather being sunny and 87 percent of students chose to have the pep rally on Friday, November, 5 2021.
Mrs. Tiffany Hummel said, "I was hearing some informal feedback that some seniors did not want to have a pep rally. The reason we have the pep rallies is for the students. I do enjoy having them because it helps our team know that the school supports them and it gives us a chance to have some fun. The weather has really cooperated for us to continue having them through November. I decided to poll the students instead of just listening to a few students. It's so easy to do a quick survey with the iPads.They overwhelmingly, about 86%, wanted another pep rally. As I said outside, you never know when some of these experiences in high school will be your last, so it's good to enjoy them while you can."
There are some students who enjoy the pep rallies and think they are necessary. Although whether they are for or against "school spirit" most students agree when they say there should be some improvements to the skits to make it more enjoyable for the students. Junior Faith Younker said, "I enjoy the pep rallies because the previous one was a good end to a Friday. I enjoyed hearing the band play."
Senior Cloe Derr said, "I really enjoy the pep rallies because I like being able to go outside during school after a long week. Some things we can do to make them better is probably if we were allowed to have a dress down/relaxed days on the days of the pep rally (like allowing sweatpants). We can even use this to make money for the school like if you dress down you pay a dollar. I also think we should have some sort of snack and drink stand outside at the pep rally or inside so you can stop at it on the way out. use the money made from dress down day to get snacks and drinks."
She also acknowledges that most students can think of the pep rallies as predictable and redundant.
She added, " Most students probably dislike it because of how repetitive it can get. it's always the same thing. We go and yell the same things, listen to the band perform the same songs, and then leave. I feel like if they would do more exciting events that get people in the bleachers just as involved as those on the field then maybe they'd enjoy it more."
Senior Mitavia Session says that pep rallies aren't exactly weather friendly.
She says, "Honestly, It's getting way too cold for them. I don't mind them in the spring and summer. I do enjoy the pep rallies though I think they should have more variety and make things interesting. Examples of ideas would be having new songs, dances and challenges for these pep rallies!."
While there are some students who are in favor of making improvements to the pep rallies, there are some who feel as if they are irredeemable. Senior Kendra Spevak feels neutral about pep rallies neither loving or hating them. They are in favor of the pep rallies being more optional.
They say, "When it comes to the pep rallies I'm not a fan of them, but I don't think they should be taken away. Instead of being taken away, they should be more optional."
Leave a Comment