Winter Sports Commence
If you asked almost any middle school, high school, collegiate and professional coach to name the one basketball skill or character trait that is the most important to the future success of a player, and most benefits the team that the player is on, many coaches will tell you the most valuable attribute a player can have is knowledge.
That's when we meet our experienced coaches, who've been in these athletes shoes. "Hi, my name is Tom McGeoy. This will be my 15th year coaching basketball. I was a student athlete here at Pottsville from 1996-2000. I played football and basketball."Accompanying him is Coach Wartella, who played football, basketball, and baseball here at Pottsville.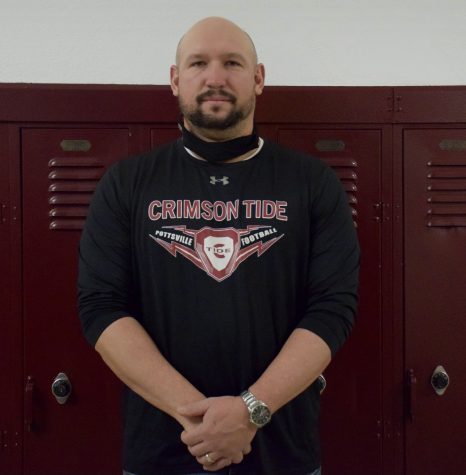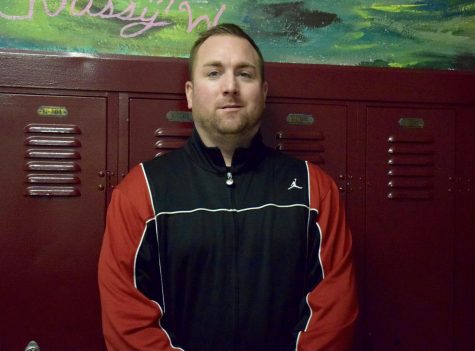 After 15 years of coaching, what makes 2022 different? That's when I asked myself how have both coach McGeoy and Wartella prepared the team this year?
"I know Coach Wartella has done a lot in the off-season to get this team prepared for the season. Being around basketball again after finishing up our football season, you can see the guys are ready to go, and looking forward to a successful season." Said McGeoy. "We still have a lot of work to do and take it one day at a time, but we had a great off season.  We have 8 seniors who are very determined to have a great season.  Practices so far have been great and we look forward to having a successful season." Wartella added.

With any sports team, a bond is built within these athletes. After interviewing our coaches, they were eager to share. Coach Wartella responded first, "Every day is memorable with this group because they are hard working kids who make coaching fun.  Also, we had a very good season last year winning 16 games, but we came up short of our goal which is winning championships.  Seeing the disappointment on their faces after coming up short last season was memorable to me, but I believe it helped us prepare for the season."
With the good comes the bad, however it's great to hear the athletes have positive role models. Even though that championship wasn't under their belts, maybe then next will be! Coach McGoey had a lot to say, but sadly cut it short. "I am not sure there is enough time in your article to mention all the memorable moments I experienced coaching here at Pottsville, but I guess the most recent one would be our victory over North Schuylkill in the mud and rain to end the regular season of football this year." Said Coach McGeoy.
Even though there are only 4 years spent together at PAHS, our coaches had some advice for you to carry the rest of your life. Wartella made it clear, "If you take care of the small things, the big things will take care of themselves." Need more detail? Let Coach McGeoy explain it a little better. "I would say there are two things students/athletes should know. One remember you are a student first, focus on your school work as much or more than you focus on your sport. Two high school sports go fast, enjoy your time on your team, these four years will be over before you know it."
With the coaches taken care of, let's meet some of our seniors! Drum roll please!

Firstly! Raeff DiCello, a senior. " I've been playing basketball since 3rd grade. My dad is who got me into the game and the determination to get better every practice is what keeps me going. My family is by far my biggest supporters, and that comes with them seeing our teams many ups, and few downs. My most memorable moment is winning the Schuylkill league championship my sophomore year. If I could tell freshman me one thing, it would be to carry yourself with extreme confidence."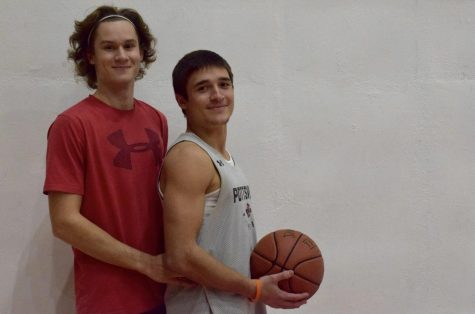 Joining Raeff is Michael Sukeena, a senior.  "I've been playing basketball since I was about 7 years old. My dad got me into basketball at a young age since he was always an athlete when he was younger. I always want to get better at whatever skill I'm working on whether that's shooting or ball handling. My parents support me the most in almost anything I do so I would say them. The most memorable moment I had playing basketball was when our team won the Schuylkill league championship when I was a sophomore. Just to be a part of a good winning team like that was special. I would tell the freshmen that consistency is key if you want to be a good basketball player. You should constantly be working everyday trying to get better and improve yourself in any way possible."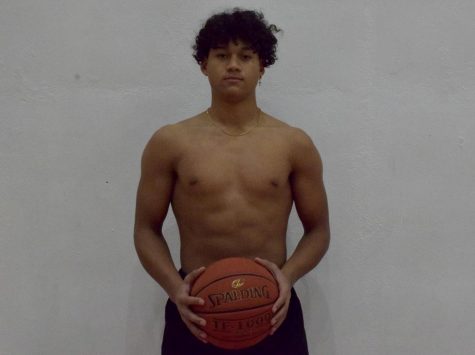 Last but not least, Jazce Carabello-Snowell, a senior. "I have been playing basketball for 13 years. What got me playing basketball was seeing my brother play when I was younger. The thing that keeps me going is that it keeps me in shape for football and that I'm also good at it. My family supports me the most out of anyone and I mean all my family like aunts,uncles, and cousins. My most memorable moment would be winning the Schuylkill League Championship 2 years ago. If I could tell a freshman athlete one thing it would be to never give up on what u really want, don't let anyone make a decision for you."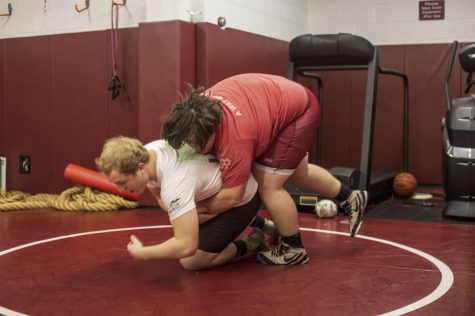 Two of the winter sports at Pottsville Area High School are Wrestling and Swim and Dive. The coaches for the teams are Coach Keener, who has been the wrestling coach for 9 years and Coach Johnson who has been an assistant coach for the swim and dive team for 7 years.
The Wrestling team started practicing on November 19th and they have a total of 33 students on the team.
Coach Gary Keener said, "Connor Demcher, Dalton Monger, and Parrish McFarland start the season in the state rankings and all realize this is only a ranking and it will take hard work and dedication to reach the mats or the podium in Hershey. There are also quite a few newcomers that could make an immediate impact and help the team reach their goals."
The team is hoping to continue their streak in the league and be competitive within District XI at the AAA level. They are looking forward to putting fans in the stands at numerous competitions that will be hosted at Martz Hall; 5 dual meets and 2 dual tournaments. Case Flynn Duals will be hosted on December 11th and the Mats on the Mecca on January 8th. The varsity will compete at the prestigious King of the Mountain Tournament, travel to May River, South Carolina for an invitational between Christmas and New Year's, and enter the Burgettstown Tournament at the end of January.
Coach Keener said, "This is my 9th Year Coaching at Pottsville High School along with head assistant coach Sam Julian. Over the last 9 years we have built a pretty solid foundation to our program and currently have 33 kids on the high school roster."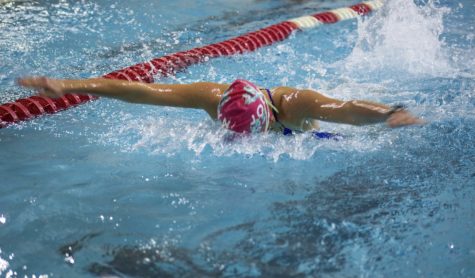 The Swim and Dive team officially started their season on November 19. However they have been having optional practices throughout the year to help students get better and work on their skills. If you want to be on the swim and dive team all you have to do is really care and put time and effort into it. Like all sports, you also need to get a physical to be able to be a part of the team.
Coach Johnson said, "Unlike sports like basketball, if an athlete wants to compete and has all the necessary documentation/physicals completed they are on the team. I myself tend to work with our novice swimmers to get them ready for the upcoming season."
There are a couple different things you could do on the team. There's
stroke and distance events you could do. There's a 200 medley relay, 200 free, 200 IM, 50 free, diving, 100 fly, 100 free, 500 free, 200 free relay, 100 back, 100 breast, and the 400 free relay.
Coach Johnson said, "The first few days/weeks we assess the students skills and try to determine where they best fit. In a simple breakdown we break them into two groups, sprinters and distance swimmers. We all practice together in the beginning. Then the second half is spent honing in on their skills. Athletes practice their skills and strokes and prepare for their meets. We encourage swimmers daily to swim faster than yesterday and to do their best. We have a great team of swimmers. They are hard working individuals inside and outside of the pool."
We also encourage students to share their opinions on the upcoming events. Have something to share? Reach out in the comments!
Leave a Comment