District 11 swim and dive recap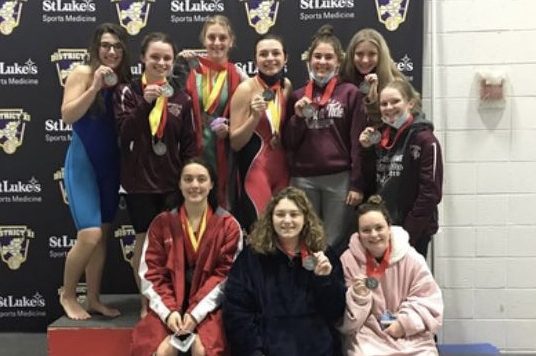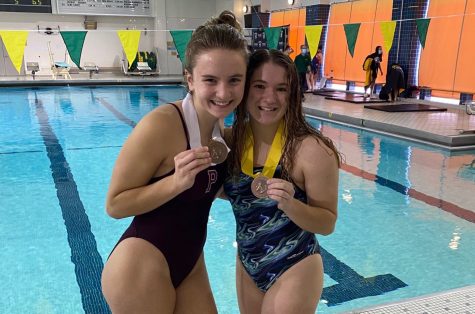 The district 11 diving championships occurred on February 27, 2021. The competitors were Alexa Fegley (Moravian), Anna Petke (Bethlehem Catholic), Kylee Fehr (Blue Mountain), Melissa Ellis (Schuylkill Haven), Olivia Lang (Schuylkill Haven),Lauren Klinger (Pottsville), Hailey Toth (Tamaqua) Mia Jones (Tamaqua) and Greta Snukis (Pottsville). Klinger, Toth, and Jones were not able to attend districts because they didn't have their required reverse dives. Sophia Knorr was out for the rest of the season due to an injury. 
In first place was Alexa Fegley. Anna Petke grabbed the silver and Greta Snukis took home bronze. 
Senior Greta Snukis says, "Overall I was rather pleased with how I did. I'm disappointed in my twister dive though because if I would have nailed it like I did in warm up, I definitely would have placed higher. I just wanted to enjoy myself and have fun at my very last district meet. I was very proud of how I competed in the first round of dives." 
Competitors need 2 dives in every category (Inwards, Forwards, Back, Twist and Reverse) and 1 optional dive in one of the 5 categories listed. They also need to achieve a total score of 140 or higher at a regular dual meet during the season. 
Representing Pottsville in The District 11 swimming championship are: Elana Martinko, Carly Mohl, Julia Balulis, Gwen Biddle, Livia Hable, Maddy Wright, Taleah Ruben, Izzy Mettam, Chloe Heintz and Katie Painter for girls swimming. For boys swimming are Corey Rinda, Zaidian Vanorden, Daniel Albertini, Indiana Raess-Sausser, Vincent Prestillo, Xander Hirsch, Carter Yeager, Brandyn Purcell and Zach Ott. They all competed on either March sixth or seventh against other schools in the district, girls swim earned team silver with a score of 242. Boys swim got fourth with a score of 228.
"Being able to compete in districts was a great experience that none of us were fully confident, we'd even get to participate in this year. Last minute, it was opened to 16 entries per event instead of the originally limited eight. With the new change, came more opportunities to swim and compete and allowed for a really wonderful day packed with many memories," Chloe Heintz said.
In the Swimming Districts Championships, competitors compete in 11 different events, 400 Yard Free Relay, 100 Yard Breast, 100 Yard Back, 500 Yard Free, 100 Yard Free, 200 Yard Free Relay, 100 Yard Fly, 50 Yard Free, 200 Yard IM, 200 Yard Free and 200 Yard Medley Relay. Their placement in the aforementioned events give their team points. 
Katie Painter said, "I have competed in district for soccer before but district for swimming is totally different. Swimming is not just a team sport but an individual sport which is so much harder. But it was so exciting and fun, I can't wait to go back next year.
"Competing in districts was an amazing experience. I was surrounded by top tier swimmers that pushed me to swim faster and let me know what I was capable of. Overall it was such a surreal experience and I hope to be back next year," said Zach Ott.
In individual events and in relay events, the members of Pottsville Swim also took home several medals such as a gold in the 100 breaststroke and many silvers in the relays.
View Comments (1)