Band members and football players celebrate Senior Night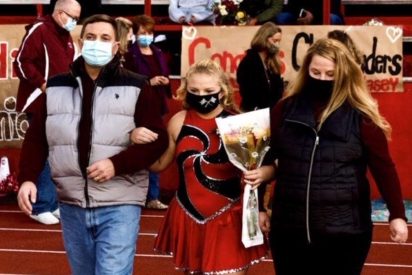 Since the COVID-19 pandemic, the Pottsville Area School District didn't know if there would be a senior night for football, band, and band front members. Fortunately, senior night still happened and was able to be held on Friday October 2nd.  Even though there were spectators allowed, COVID-19 guidelines were followed during the event.
Senior Katie Brennan had similar thoughts on the idea. Brennan said, "Although our senior year is far from normal, I'm thankful that our senior night was as close to normal as it could be while taking necessary safety precautions. We were able to be honored properly like the seniors in years prior by walking out with our parents and being announced. We were able to perform in front of a crowd and stay for the whole game. It felt really great to get that feeling back, even if it's uncertain whether or not we'll be able to do it again."
"The best thing was being able to still have it amid all the uncertainty of this year and the worst part was having to say goodbye to some of the best moments I've had in high school", said senior Grace Mongrain.
Many are disappointed to see them leave, including sophomore Zowie Zokuskie. "Saying goodbye to the seniors is always bitter sweet. We get to see them go on to better things and succeed in life, but we won't see them on the daily anymore. However we will still have good memories to look back on."
While it was far from different in previous years, it was still an unforgettable night for the seniors.
"Senior night was really fun. It was really sad to watch all of my senior friends because they aren't going to be here next year. The whole thing was just a lot of mixed emotions", said sophomore Kenzie Androshick.
The 2020-2021 Senior night was a celebration for all of the seniors, parents, and friends to come together one last time. With the departure of the current seniors, it allows the upcoming seniors to experience this night next year.