South Korean Exchange Student Comes to Pottsville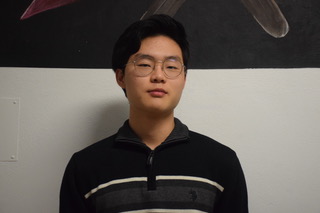 The distance from Pottsville to South Korea is about 6,926 miles. That means that June's flight from his hometown took approximately 14 hours and 14 minutes. Jeong Hyeon June is the newest addition to our student body; he's a sophomore.
June, a foreign exchange student, was born in the month of June. In America, he's 17 years old, but in South Korea he's 18. When someone is born in South Korea, they are considered one year. Everyone ages one year on New Year's Day, because they go by the Lunar (Chinese) New Year.
June has an older brother and sister, and his sister is getting married in May of this year. He has five dogs and four cats back in South Korea. Here in Pottsville, he lives with his host family along with one other foreign exchange student, Vanda Bednarikova. Vanda Bednarikova attends Pottsville as a junior. 
June has always dreamed of coming to America. He watched many Hollywood movies and was convinced he would never have the chance to come here, until he heard about a foreign exchange student program. When he signed up, the program sent him to Pottsville.
Pottsville is such a drastic change from South Korea. At his old school, he would have to leave for school at 7:00 am and stay there until 6:00 pm. After school was over, he had to go to an academy for a few hours. He went to school five days a week, although on the weekends he had to spend time at the library. June had little to no freedom to do what he wanted. 
In South Korea, people don't greet each other. At school, it's seen as weird or degrading if you talk to your friends or hug them. 
As of now, June has no hobbies, but he is considering joining Drama club as an extra. One thing he would want to do before he leaves is go to New York to see the Empire State Building.
June is a huge fan of anything superhero related. He enjoys watching Marvel and DC movies, with Spider-Man being his favorite Marvel superhero, and Batman his favorite DC superhero. 
Just like any other student, June wants to get good grades and make new friends while he's staying here. "I like this place, but I'm still having difficulty in English so I'm trying to adjust to this place. I like the students in Pottsville. They are nice and cool," said June.
Leave a Comment