The Legacy of George H. W. Bush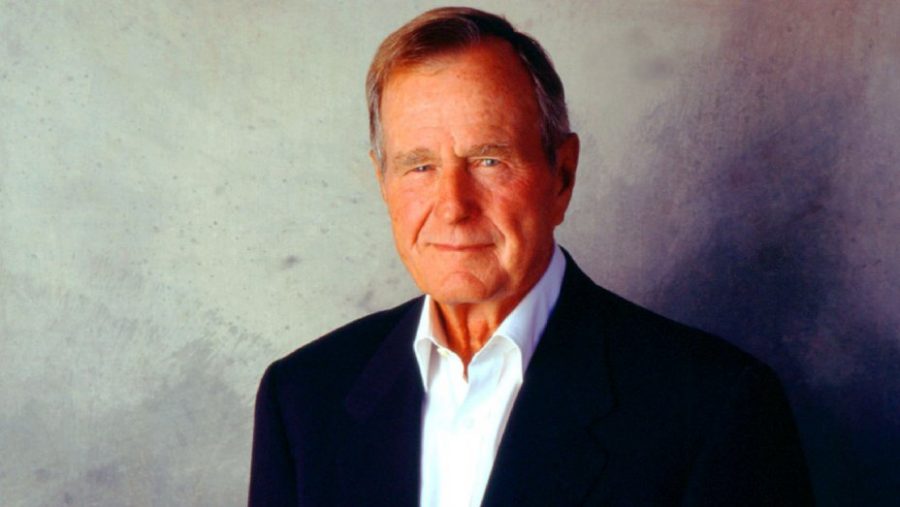 When one hears the name George H. W. Bush, what does one think of? Perhaps an esteemed hero of World War II, a former president who embodied the very definition of leadership, maybe even a father and grandfather with a heart of gold, or if looking at the simplest of things – a good man.
"What impressed me about him [George H. W. Bush] was that he was so gracious in his defeat. He lost to President Clinton, but they became the best of friends, and in today's political environment that is a rarity," Mr. Charles Taronis, history teacher, said.
The former president was born June 12, 1924, in Milton, Massachusetts as George Herbert Walker Bush. He grew up in Greenwich Connecticut until he attended a private school. After graduation, Bush joined the U.S. Naval Reserve and served during World War II from 1942-1944 as a Torpedo Bomber Pilot. In 1944, the former president's plane was shot down into the Pacific by Japanese forces. He was rescued by a submarine and was awarded the Flying Cross for his service.
"He fought honorably. His service record was absolutely stellar and as they say, he was truly a tremendous member of the greatest generation. He was a family man and simply, just a good all-around American. He is what they call a great man," Mr. Robert Kempsey, history teacher, said.
After his years of service, Bush returned to marry his sweetheart, Barbara Pierce (later Barbara Bush) and had 6 children: George, Jeb, Robin, Dorothy, Neil and Marvin. His daughter Robin passed away at the age of three from Leukemia. He and the rest of the family were devastated by the sudden tragedy, which followed him until his death. After marrying Barbara, Bush went back to school at Yale University, and after graduating in 1948, took his family to Texas. There he started his own oil business, the Bush-Overbey Oil Development Company.
In 1964, Bush ran for the Senate as a member of the Republican Party, but lost to Ralph Yarborough. However, in 1966, Bush was elected as a U.S. House Representative. He then ran for the Senate again but was defeated again. Even though he was defeated, President Richard Nixon made Bush a U.S. ambassador to the United Nations, and later Bush even became a CIA director during Ford's presidency. After resigning from the CIA in 1979, Bush announced his run for presidency in 1980. While running, he realized that he did not stand a chance against his opponent, the Republican candidate Ronald Reagan. Therefore, Bush decided that instead of running against Reagan, he would join him as his vice president. Together, they won the 1980 and 1984 elections. During his time as vice president, Bush built up his stamina for his goal of becoming president, saying that his mission was to continue Reagan's legacy.
In 1988, Bush won his bid for the presidency against Democrat Michael Dukakis. While in office, Bush nominated two Supreme Court Justices, ordered the invasion of Panama against the brutal leader Manuel Noriega, saw the collapse of communism and the Soviet Union, ended the Cold War, sent troops to Iraq and fed starving children in Somalia. When up for reelection, Bush lost the presidency to Bill Clinton. Their relationship before, during and after the election proved that a Republican and Democrat can unite and agree.
After the inauguration of Clinton, Bush returned home and became less involved with politics. However, that wasn't the case for his sons George and Jeb Bush. George W. Bush won the presidency in 2000 and Jeb Bush ran for president in 2016, but lost in the primaries to eventual President Donald Trump.
"George H. W. Bush always impressed me with how he became friends with Bill Clinton even after he lost to him. Their friendship was always admirable to me," Mrs. Deidre Anchorstar, social science teacher, said.
On November 30, 2018, George H. W. Bush died at the age of 94. He was buried at College Station, Texas, next to his wife Barbara. Even though people had many different perceptions of George H. W. Bush, he is one of the reasons America is how it is today. He proved that no matter what party, race, or religion one comes from, we are all Americans, and we are all a family.