Crimson Tide Wrestling Hasn't Tapped Out Yet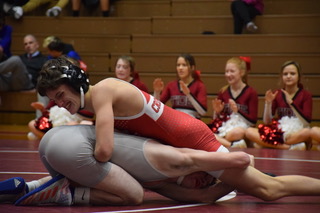 No one can seem to pin Crimson Tide Wrestling! With a record of 2-2, the Tide has remained strong through tough opponents like Blue Mountain and Easton. The dedication and motivation of the team has set our boys apart from others.
Best said by Sam Sterns, a Sophomore wrestling at Pottsville from Nativity BVM, "The team dynamic right now the best part of Pottsville Wrestling; it's really just the team and the people on it. We are family. Everyone supports and encourages one another."
This 'family' is headed by Gary Keener, who has successfully clinched four consecutive Division 1 championships in 2016, 2017, 2018, and 2019, as well as League Tournament championships in 2017, 2018, and 2019. He has eight years of assistant coaching with the Blue Mountain Eagles under his belt. Coach Keener's impressive repertoire also includes coaching 15 state medalists, 5 AAA state champions, as well as being a six time Pennsylvania USA Wrestling National Team coach. 
The team energy feeds into the individual side of the sport as well. Working towards a personal goal to benefit the team is something that any athlete will live and die by, and the Crimson Tide Wrestling team is no exception.
 Sam Sterns said, "So far this season, I've felt very good not just the technical aspects, but the mental aspects as well. I feel like I have more confidence out on the mat because of my coaches and teammates."
The Tide locked down another consecutive Division 1 win this weekend on January 17, 2020.