Best Pizza in Schuylkill County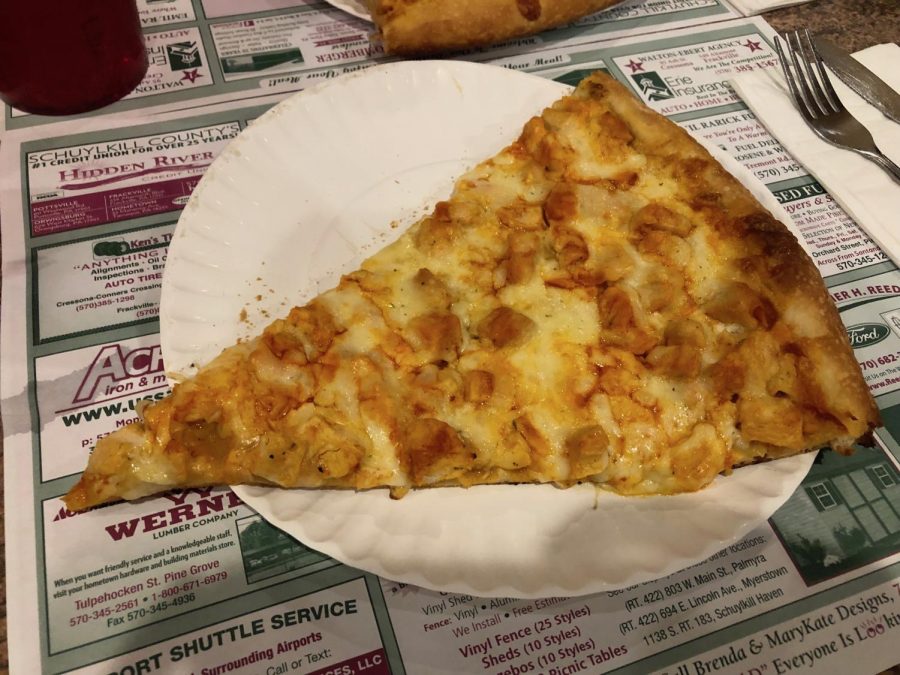 In our area, there are many places you can get a pretty good slice of pizza. However, if you had to pick one, which one would you say is the best in Schuylkill County? I went around to a few popular restaurants in the area to order pizza and compare the experiences.
ROMA
Address: 116 W Market St, Pottsville, PA 17901
Time and time again, Roma's pizza is voted the best in the area by reader's of the Republican Herald newspaper, and I can see why. The thick, doughy crust is just the perfect texture and the combination of their flavorful sauce and cheese is to die for. Roma's plain pizza isn't the only type of pizza you can order. They have several other selections such as sriracha chicken, chicken bacon ranch and barbecue chicken (my personal favorite).
Other selections Roma offers are pasta dishes, steak entrees, wraps, subs and wings (order them with the Roma creamy house sauce). When ordering from Roma, you can order to go or delivery. Also there are two seating area; one with waitress service and one without. They also have a seperate room available for rental for events and you can cater to an event. Whenever you walk into Roma, you will be greeted by friendly faces and many locals.
PALERMO
Address: Kings Shpg Ctr, Minersville Hwy, Pottsville St, Minersville, PA 17954
Palermo Pizza is one of my favorite places to sit down and have a quick dinner with a friend or two. The buffalo sauce mixed with ranch, cheese and chicken provides a heavenly taste with a bit of a kick. Make sure you have a glass of water close by when you eat this! If you're looking for a slice with a kick, Palermo is the way to go.
Not only does Palermo have a fiery buffalo chicken slice, their stromboli and chicken bacon ranch pizza are tasty as well. The restaurant also has a pickle pizza. Yes, pickle slices on pizza! I am not a pickle person, but I have heard from multiple people that if you want a slice of this creation, Palermo has the best.
Palermo has quick service and lots of locals that stop in just to have a slice and a pint of Guers Iced Tea. They also offer salads, pasta dishes and subs. In fact, Palermo cheesesteaks have been voted the best cheesesteak in Schuylkill County by the readers of the Republican Herald. I've had one a couple times, and I can verify it is pretty amazing. Palermo offers both take out and waitress service.
POTTSVILLE PIZZERIA
Address: 800 S Centre St, Pottsville, PA 17901
The Pottsville Pizzeria is a small takeout restaurant. The only seating available is for those who are waiting to pick up their food. Their pizza has a light and crunchy crust in a square shape. Therefore, their whole pizzas are in the shape of a rectangle. Many of my family members and friends are in love with it because of the whole combination of the crust, seasoned sauce and cheese. Whenever nobody feels like cooking dinner, Pottsville Pizzeria pies are always fair game. If you're looking for a change from your plain slice of pizza, definitely try the Pottsville Pizzeria.
A variety of pizzas, strombolis, and subs or sandwiches can be ordered. In fact, you can order frozen rectangle pies to take home and cook in the oven. Some popular pizza toppings include meatballs and onions.
OIP
Address: 300 Mauch Chunk St, Pottsville, PA 17901
  101 N 2nd St, St Clair, PA 17970
OIP is a popular pizza restaurant with locations in Saint Clair and Pottsville. Their pizza is full of flavor from the crunchy crust to the seasoned sauce and stringy cheese. If you're looking for a quick bite, OIP is definitely the place to go. The environment is small, yet hospitable. Other offerings include Italian appetizers (mozzarella sticks, calzones, etc.), subs, cheesesteaks, pasta dishes and stromboli. You can order take out or get your food delivered.
SUGLIA'S
Address: 107 E Main St, Schuylkill Haven, PA 17972
Suglia's is a pizza place on Main Street in Schuylkill Haven. I love to chow down on a slice of their stuffed buffalo chicken pizza after I finish my workout at the gym across the street. While I would rank their buffalo chicken pizza second to Palermos, if you're in the area, definitely stop in for a slice. When you look at the buffalo chicken slice, it just looks like a masterpiece painted on a slice, but the chicken is stuffed underneath the combination of buffalo sauce and cheese, which makes an interesting texture in your mouth. Just make sure you have a glass of water nearby when eating a slice. Their plain pizza is pretty awesome too. The sauce is seasoned to perfection and the crust is thick and doughy.  
Suglia's has a nice seating area if you just want to quick eat a slice, or you can go next door and receive waitress service. If you're in a rush to get home, you can also order over the counter to-go. They also offer pasta dishes, salads and subs.
VITO'S COAL FIRED
Address: Coal Creek Plaza, 400 Terry Rich Blvd, St Clair, PA 17970
Have you ever heard of pizza being cooked in a coal fired oven? It's got to be the most "Schuylkill County" slice of pizza around. That is what Vito's Coal Fired is known for. They have three styles of coal fired pizza: Margherita style (which has a thin crust, cheese and lots of basil), Classic Brooklyn (a thicker crust with thick cheese) and New Yorker (the thickest crust and two types of cheese). In addition to their unique pizzas, Vito's also makes pasta dishes, salads, subs, traditional dinner entrees and coal heated bread.
REFLECTIONS
All slices of pizza considered, I would have to say Roma has the best in the county. Nothing can beat one of their fresh slices. If I am choosing where to order pizza, you can bet I'm choosing Roma. Regarding Palermo, their buffalo chicken pizza is the best in the area. When I'm eating here, you won't catch me dead without a slice of buffalo chicken pizza. This is by far the best slice of pizza you can get at Palermo's and the best of its kind in Schuylkill County.
I would have to rank OIP's pizza second in my top list of plain slices of pizza. The taste is great, but still second best to Roma. Suglia's is ranked behind them. When they make their pizza at its best, it's really good; however, it is inconsistent. Sometimes I'm impressed, but other times Suglia's leaves a lot to be desired. Vito's Coal Fired pizza has got to be the most unique slice of pizza in Schuylkill County. No matter how hard you try, you'll never find another slice just like it in the area. The Pottsville Pizzeria does not impress me to say the least. Personally, I don't find their pizza appealing, however I know a lot of people consider it the best in the area.