My experience competing at PSF's Annual Shakespeare Competition (photo)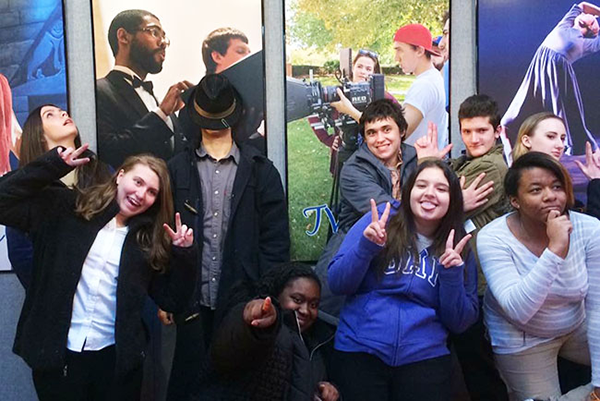 March: the time of the year when Drama Club members shudder at the mere thought of the rapidly approaching annual musical. March: the time of the year when the actors have to balance daily six-hour music rehearsals, school work and having a social life. March: a time of stress for anyone involved with Drama Club, Pit Band or Stage Crew.
Yet March 4, Shakespeare Club actors managed to push away all feelings of nervousness and excitement about their roles in the Drama Club's Titanic the Musical to perform Shakespearean monologues and dialogues at the 2017 Pennsylvania Shakespeare Festival Shakespeare Competition.
The day began like any normal school day. I woke up at the crack of dawn, got ready and then came to school at 7 a.m. Eight other students and I drove about an hour to DeSales University, waited around for a half hour and then dove right into competing.
The most nerve-wracking part to me was being separated from all of my friends from Shakespeare Club, and then being thrown into a competition room full of actors and directors from an assortment of other schools, as well as a panel of judges. It was very scary going into it. Plus, it was a very long day; we all had to perform our monologues or dialogues a total of three times, receive feedback from the judges and then anxiously wait to see if our pieces had been chosen to be featured in a Shakespeare Showcase at the end of the day.
Nervousness and anxiety aside, the feedback I received and the friends I met that day made this competition such an invaluable experience. I performed a monologue from Shakespeare's "King John" as the character Queen Constance. The whole piece was centered around Constance losing her child and essentially going crazy with grief.
Over the course of the day, the intentions within my monologue completely shifted. I went into the competition seeing my character as simply a grief-stricken mother; by the end of the day, my take on Constance was simply a mother falling apart, just trying to convince the audience that she's not insane. The judges were really vocal about what they liked and what they didn't like within my piece, and they guided me through changing it for the better. They gave me directions to make more eye contact and just generally get closer to the audience to make me seem more desperate. I really think that added a layer of panic and insanity to the piece. By the last performance, I felt completely in tune with my character.
Unfortunately, I didn't win any awards that day, and I wasn't featured in the Shakespeare Showcase. What's amazing, though, is that my good friend, senior Pat Moran, got to perform in this Shakespeare Showcase, and was awarded with a $1,000 Scholarship to DeSales University for his Dogberry monologue from "Much Ado About Nothing." It was so cool that he was able to get a scholarship for something he loves doing.
It just really goes to show that PAHS actors have the ability to go somewhere with their talents. We live in such a small, overlooked, athletic-accomplishments-focused county, yet we still have the capacity to rank at huge competitions like this. That's why I think it's so important to keep the arts alive; we have so many very talented actors and actresses in this school who are just waiting to succeed.
I'm so incredibly proud of everything that our Drama and Shakespeare Clubs have accomplished. With continued support in our community and district, our Drama Club can reach even bigger heights.
Leave a Comment