Dribbling Into States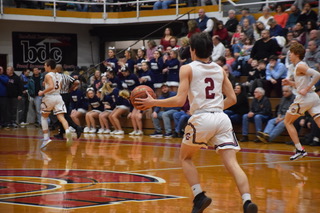 The Pottsville Crimson Tide boys basketball team is headed to states. Their first game will be held on Friday, March 6 at 7:30pm against Northern York. The game is being played at West York High School.
The Tide came off of a devastating loss of 61-48 to Southern Lehigh in the District XI Championship Game. The Crimson Tide was also favored to win that game by six points.
Despite the initial loss to Southern Lehigh, the Tide's team is equally as good as the team from last year. Last year's team made it to the semifinals in states. A lot of the same players were on that team. This year's team hopes to go just a few steps further than last year's team and bring home a Class 5A State Championship.
Sophomore Raeff Dicello said, "I feel like we still have the same chances as if we won that game because we still played well, our shots just weren't falling. We're still going to go out and play our game because we know if we do that there aren't many teams that can stop us."
Because of the loss to Southern Lehigh, the Tide's next loss will be the seniors last one. This can be motivation for some knowing that they're playing what can be their last game if they don't win.
Senior Mason Barnes said, "This season was definitely one to remember so far, but we aren't done yet. We are hoping to get at least a couple more state games in and continue to go on a run. I never want this season to end, but when it does, we will definitely embrace the time we had as a team."