Rough Start for Boys Basketball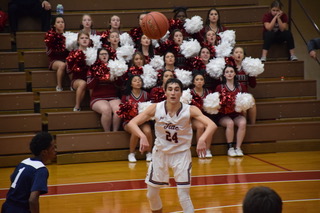 Pottsville knew to win this game they would have to bring the "A-Game." This team, being a top tier group, was going to be a great challenge for any team. Odds of winning this game for Pottsville were low.
Pottsville ended up losing the game with a score of 70-49.
Senior Riley Stanton said, "We could've played better in the first half. We needed to be more aggressive and take better care of the ball."
This is just the beginning of the Tide's season. Hopes didn't look great after this game, but the Crimson Tide has many more opportunities and room for improvement.
The Tide has many disadvantages they need to work against. The Crimson Tide is not the biggest in the league but other teams have their disadvantages too. The Tide have a long way to come and a long way to go.
Head Basketball Coach Dave Mullaney said, "We are not playing at a championship level right now.  We'd have to commit to improving a little bit each day in a variety of areas. If we do that, we have enough talent to be a championship level team."
Senior Matt Salata said, "We're not the biggest team so we need to work on getting big and boxing out to limit offensive rebounds for the other team."
The Tide plays Panther Valley an undefeated team to start the new year. They will need to use some of these improvements to win.