Band banquet honors current members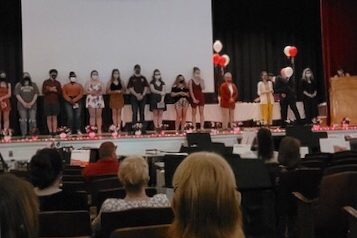 On Sunday, May 2nd the band banquet was held at the PAHS auditorium. An enjoyable get together for the band, majorettes and flags. Students and audience members conversed with each other remembering the year for the seniors as well as other band members. 
Senior majorette Allison Campion says, "It was nice that we were at least able to do something even if it wasn't a full on banquet. I'm thankful our parents worked hard to pull this off and remind  us of all the good times we've have these past few years."
There were gifts given to seniors and two year members. The two year members got their varsity letter and seniors got a portable charger with "PAHS 2021" on it. 
Senior trumpet player Christian Honicker comments on the charger. He says, "I haven't really used it yet, but I can say at least that it looks cool."
Even if they didn't get a gift, most enjoyed the event such as Junior Yseult Barbedette,who said, "It was pretty enjoyable. I got to sit with Nick (Horvath, sophomore) through the whole thing. I was there helping set up some things so I got to venture into the freezer to find lost cupcakes. I was delighted to find out that the freezer doesn't lock from the inside. (I got to go in the walk-in freezer.) the auditorium was also decorated really nicely."
Senior majorette Katie Brennan also enjoyed the event. She says, "I thought it was a really nice way to end things. I can tell they put a lot of effort into doing something special for the seniors."
Leave a Comment