"Always and Forever" has fans hooked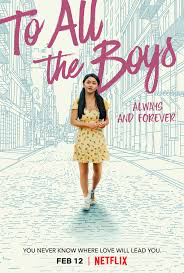 To All the Boys I Loved Before has been a huge hit among teens since its release in 2018. The comedic and romantic film attracted viewers of all types to become intrigued of what will happen in the upcoming movies in the series between main characters, Lara Jean and Peter Kavinsky. Their surprising relationship had fans hooked.
Since the second movie, "P.S. I still love you", fans have been excitedly waiting for the release of the last and final film "Always and Forever."
Luckily during mid 2020, producers announced that the third film in the series would air on February 12, 2021.
Following its release and being ranked one of the most watched films on Netflix, viewers were very pleased with the outcome.
Clara Goméz said, "I really liked it because it shows how if you really love someone you can make anything work despite all of the complications."
"My favorite part of the movie was definitely when they break up after prom, but Lara Jean's  sister, Kitty, tells her to go to the tent after the wedding and Peter was in there. I liked how you saw a whole different side of Peter in this movie than you did in the other two," said Brenna Davis.
With Lara Jean unable to get into Stanford, it definitely let viewers devastated because that would mean her and Peter wouldn't be able to attend the same school.
"I thought the movie was so good. I'm kinda sad that she didn't get into Stanford, but she's living her best life in New York. I like how they had the fall out it made them so much stronger," said Francesca Maiuri.
Most could agree that there wasn't a part of the movie that they didn't like and it was very enjoyable. One fan hoped that Lara Jean's ex-love John Ambrose had a role in the final film.
Maiuri said, "I wish John Ambrose had a role in this one just as a friend."