Waddling through the quarantine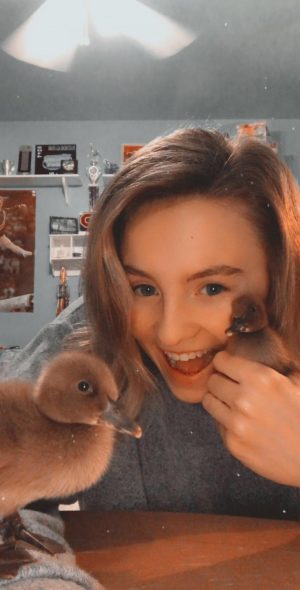 Ever since I was young, I always wanted a pet. Considering I am an only child, it sometimes gets really boring in my house, especially now because of the COVID-19 outbreak. On March 26, 2020, that all changed for me. 
Earlier in the week, I noticed that one of my old friends purchased a duck. I messaged her while being super excited and I said "Oh my gosh where did you get him? He's so cute. I want one!" She responded rather quickly and said, "I bought him at Tractor Supply. The ducks were a pretty cheap price." I immediately told my mom afterwards and I begged her to let me get some ducks. She kept saying no, but I knew I could easily guilt trip her into letting me get them. 
Finally, she agreed on taking me to Tractor Supply to see the ducks. They had baby chicks for sale as well. We walked around the store for a bit. She was checking out some t-shirts and clothing items while I was obsessing over how adorable the ducks were. I watched their little feet scatter around each other trying to get to their food. 
She came over to where I was standing. My mom said, "Greta, we don't even have enough room for them and I'll end up taking care of them. I quickly shot back and said, "Mom, you know how much I've wanted ducks since forever ago. I will definitely take care of them. I've literally been so bored and having some cute ducks will keep me busy." It was a back and forth discussion of trying to make her agree with me that I was right. She eventually said, "Okay fine, Greta go ahead, pick out the ones you want." I bursted with excitement and ran around the store picking up all of the items you need to care for ducks. 
Bubbles and Marigold are the names I picked out for my ducks. They are currently over three weeks old and have their own personal pond in my bathtub. They enjoy chilling underneath my trampoline while I practice somersaults and eating literally everything in site. Even though they shed their feathers everywhere and peck at my toes constantly, I love having them to keep me company.