STC Students Qualify for DECA State Competition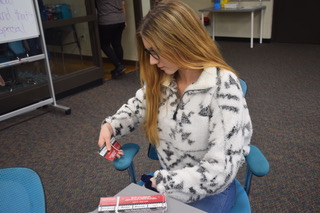 Pottsville STC students senior Hattie Ebling, senior Halia Bachman, and sophomore Jenisis Rodriguez had the opportunity to attend the DECA district competition December 6. DECA is an acronym that stands for Distributive Education Clubs of America.
Before attending the competition, competitors take a placement test. The test is 100 questions long and timed. Students in this program compete against chapters from other schools and, after districts, they compete against others from across the state. The top six move on to the state competition in Hershey at the Hershey Lodge.
Ebling will be going to states for retail merchandising. Ebling placed sixth for districts.
"This is my third year competing in the DECA competition. During my time at STC, I have been a DECA chapter officer for B semester. I was actually excited about my event, unlike last year. When I was sitting next to Halia listening to names being called for my event, I started to feel like I didn't place. As soon as they called third, I thought I didn't get anything, but I was wrong. When they said my name, I felt so proud and accomplished. When I received my trophy, it was my first ever trophy, so it was a memorable moment. I couldn't stop smiling," said Ebling.
Bachman will be going to states for sports and entertainment. She placed fourth in districts, and this was her third year competing.
"I had a great time at districts. It was my second time competing and it also my first time placing in my role play for states. It was very exciting for me. I love going there to meet new people and just have a great experience in general," said Bachman.
Rodriguez will be going to states for the banner contest. She placed fourth in her area.
"I didn't know what to expect. There were many people from all over and I'm just a sophomore with not a lot of experience. I didn't know what would happen, or how the event would turn out. Luckily, I had a friend to ease my nerves a little bit. The whole process was unpredictable and nerve racking," said Rodriguez.
Students can show their support for the STC students going to states by either congratulating them in person or on social media.
Leave a Comment