Lengel choirs go "Back to the 80s"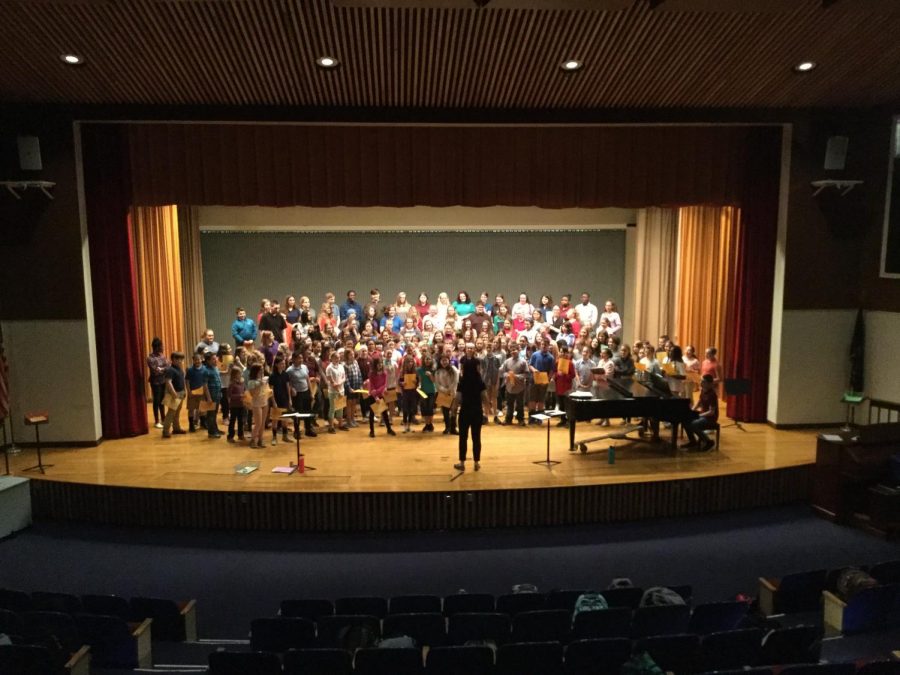 The Lengel spring choir concert was held on Tuesday night, May 7, at the PAHS Auditorium. All the grades in choir performed the songs they had been practicing since after Christmas. The concert started at 7 pm. The students performing in the concert arrived at the high school at 6:45 pm.
Parents who came to see their child/children perform took a seat at the high school auditorium. All 5th graders went to the Little Theater once in the building. A teacher was able to guide any 6th, 7th and 8th grader to where they were supposed to go. If you couldn't find a teacher, there was posters hung around the school to where the rest of your grade was located.
The theme of the concert was "Back to the 80s." The students performing in the concert were able to wear clothing that made them look like the fit in the 80s such as neon colors, leg warmers, and scrunchies. It was completely optional to dress up, but many students did. If you decided to not dress up, you were expected to wear a dress or dress clothing.
The 5th graders sang Sweet Dreams, Footloose, and Nothing's Gonna Stop Us. 6th graders sang We Didn't Start the Fire, Heaven Is a Place on Earth, Never Gonna Give You Up, and Girls Just Wanna Have Fun. 7th and 8th graders performed together. They sang Take on Me, We're Not Gonna Take It, and Walking on Sunshine. Finally, the Tide Tones performed, and they sang Africa, Will You Be There?, and Four Chords. At the end of the concert there was a grand finale where all the grades sang together to "Livin' on a Prayer" by Bon Jovi.
The concert was a huge success and was enjoyed by both the singers and everyone who attended the show!