Students choose weekly "staff members of the week"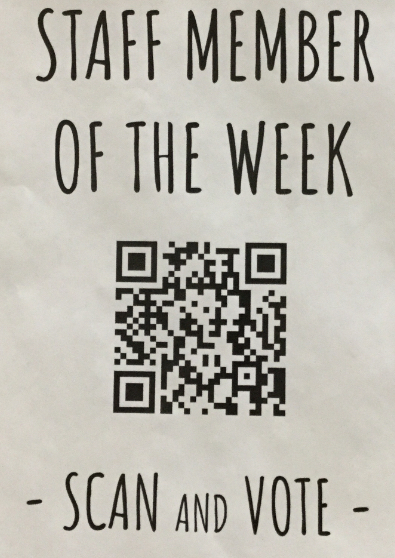 The students of DHHL can vote for their favorite staff member each week. To vote, all you have to do is scan one of the many QR posters that are posted around the building. We also included the QR code above this story. Once you scan it, the page will pop up. After it does, it will ask you your name and grade. Then, it will ask you to nominate a staff member. Once you nominate a staff member, you will need to fill out their position in the building. After that, it will ask what letter the staff member is demonstrating. The letters are PRIDE: prepare, respect, inspire, demonstrate, or excel. The last thing it will ask you is why are you nominating this staff member. Don't forget if you want to take this survey, you have to sign into your Google account (the same account you use for GoogleClassroom).
There are three winning staff members announced each week, and they are announced on the morning announcements and each receives a spelling parking spot in the staff parking lot. Make sure you vote to recognize staff members who you think are going above and beyond! Roll Tide!