April Artist of the Month: Grace Cromyak
"Art is my escape for reality. When everything around me goes into chaos and havoc I know that I always have art to get me through tough times. While at my desk, working on a piece everything else fades away and that piece of art is my only focus. The only thing that matters at that moment in time. Art is so calming and peaceful, just to sit there and let my mind roam free for a little bit," said Grace Cromyak. 
No matter what hobby, whether that be writing, reading, skateboarding it's a form of expression. In Grace's case, art is her coping mechanism when it comes to this crazy world. 
Grace Cromyak, sophomore, claimed the title of Artist Of The Month for April 2021. Her favorite part of the art process is brainstorming. The brainstorming process is probably my favorite because I have so many ideas. 
"When brainstorming I just try to write everything down on a piece of paper so that I get ideas out of my head. Then I can visually see what I have to choose from and how I want to make a story out of my art. My art always has to have a story behind it and a focal point to it because if not then it doesn't really have a meaning behind it. The feeling of finally picking an idea or finally finishing a piece when it's missing something is a feeling I can't explain. It's so relieving and rewarding."
Grace doesn't have a favorite style of art; experimenting is preferred. She enjoys constantly trying new things and experimenting with different materials and colors to make the piece come alive.
When asked her favorite piece of her she responded. "My favorite art piece I did this year has to be the one to the far right of the photo I believe. It's the pen and ink one of the girl melting as if it were a candle. I was really nervous for that piece but I think it was one of my best."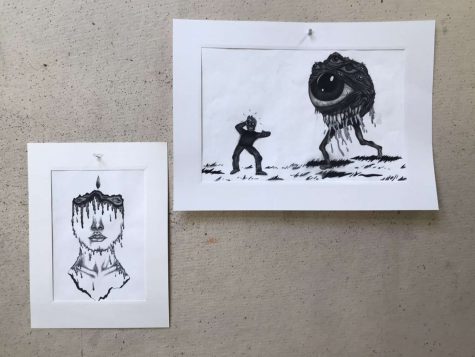 Well how did Grace get into art anyways? It wasn't much of a decision yet fate. 
"I never really decided to get into art or start drawing. I've also loved to do little arts and crafts as a kid along with painting and drawing as well. It wasn't until around 7 or 8th grade that I decided that's what I wanted to do with my life and started to take it more seriously. I started to get into drawing and painting more and more over the last couple of years and I'm really excited to start putting my portfolio together soon." Grace said.
ETC is here to give talented students like Grace a platform. If you have any questions or want to be featured yourself please leave a comment below!
Leave a Comment