Eye of the Beholder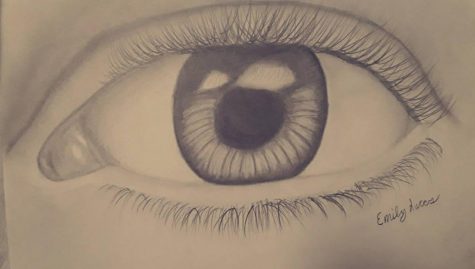 Realistic art can be an optical illusion. If you stand far away enough, it can look like a picture, taken with a camera, a lens. But, as you look closer, you can see the pen and pencil lines, the colored in sections, and the hard work and meticulous detail put into every sketch and every painting. Freshman Emily Lucas is an artist who enjoys creating these uber realistic pieces.
1. What inspired you to create this piece of art?
I've always been interested in how people can draw extremely realistic (drawings) without a flaw on the paper. I wanted to learn how to do this.
2. Would you do art as a career?
I would do art as career because it seems like it would be an enormous amount of fun.
3. Is art your favorite subject? Why or why not?
Although it's very hard for me to pick, I would say that Art is one of my favorite subjects.
4. Would you change anything about the drawing? Why or why not?
Of course there would always be something I'd want to change, because some of the shading could have been better, but I think it looks really nice.