Lengel mathletes win big at regional competition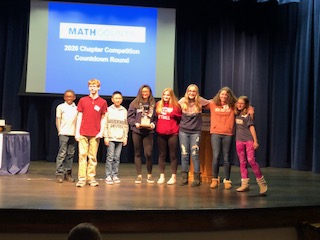 On February 1, the Mathcounts Anthracite Regional Competition was held at Penn State Schuylkill. Students Olivia Peleschak, Carter Brown, Sincere Noel, Mim Albertini, Faith Toothaker, Ryan March, Samarra Reedy, Ava Orlowsky, Chelsea Naftzinger, and coach Mrs. Donna Skosnick represented DHH Lengel. There were four chapters to the event, starting with a Sprint Round and finishing with a Countdown Round. By the end, you'd want to score as many points as possible in order to secure a place in the top ten.
The Sprint Round consisted of 50 questions — all worth a point each when answered correctly. The questions progressively got harder for each set of ten that we completed. Students had 40 minutes to solve problems, and calculators weren't permitted.
Next was the Target Round. Competitors were given four sets of questions with two questions per set. Each correct answer was worth two points, for a total of 16 points. Like in the first round, questions got more difficult as we continued. The Target Round lasted a total of 50 minutes.
After that was the Team Round. It was exclusive to a group of four selected by every team. Our team consisted of Mim, Faith, Ryan, and Samarra. The Team Round was nearly a carbon copy of the Target Round, but with the extra ability to negotiate with teammates. Points earned in this round could also be added to a competitor's total.
Finally, it was time for the Countdown Round. The top ten were announced — four of which were from Pottsville: Carter, Sincere, Mim, and Ryan. After students battled it out to finalize their placements, Ignatius Neifert from Tamaqua placed first.
In following, it was announced that DHH Lengel had won the Team Round! Overall, Pottsville did very well at the competition and will move onto the state competition. Roll Tide!
View Comments (3)