Swimming into the state championships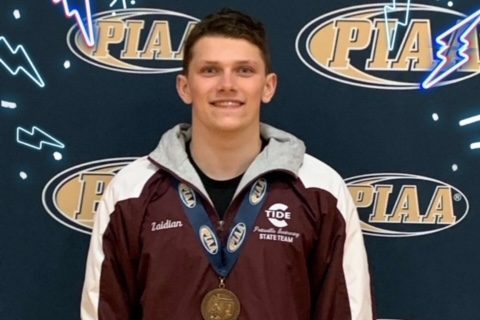 Saturday, March 20th, 2021 was the state championship for swimmers Senior Zaidian Vanorden and Junior Taleah Ruben. From their victories at the District XI Championships, Ruben and Vanorden advanced to the state championships held at Cumberland Valley High school.  
Van Orden said, "States usually take place at Bucknell University, but they shut down their pool because of COVID." He also added, "I'm just glad that we actually had states this year."
In order to qualify for states, you need to place first in the event you competed at Districts and/or get the qualifying time. 
Vanorden said, "To be able to make it to states I broke the 100 free, but it was already my record. I was close to getting the 50 free record, but I just missed by .07 of a second."
Going to the state championship is a big accomplishment for Vanorden considering his efforts throughout the seasons.     
He said, "My mindset during competing was to completely focus on my event and what I'm about to do, I block everything else out."
Not only did he make it to states his senior year but he also attended the state championships all four years of high school. 
Vanorden said, "My freshman year I made it in two relays. My sophomore year I made it in a relay and two individuals. Finally my last two years I made it into individuals each year. My coaches really helped me push to become a better swimmer."
 Vanorden placed 4th in the 100 free with a time of 21.77 and 9th in the 50 free with the time of 47.14. Ruben qualified for the state championships in the breaststroke. Her time was 1:09.59 in the 100 backstroke placing 15th at states. 
Leave a Comment