Get To Know Nicco Heimbaugh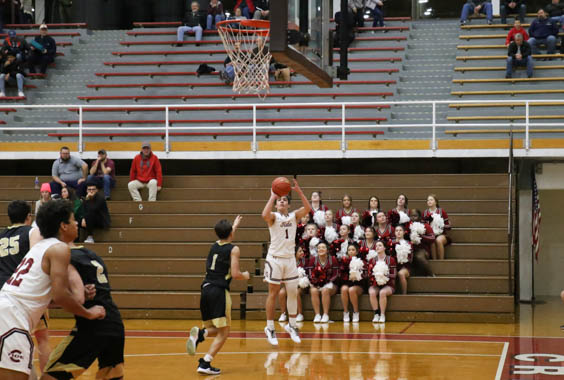 Nicco Heimbaugh is a Junior at Pottsville Area High School. Heimbaugh plays basketball for the Tide basketball team.
Heimbaugh has been playing basketball for a very long time. "I have been playing for ten years. I started playing in second grade," Heimbaugh said.
Heimbaugh has high hopes for basketball. If a college offered him a spot on the team, he would for sure play. "I would definitely play in college if I can. I would like to go to LVC," Heimbaugh said.
Heimbaugh has a long list of helpers that taught him to play. His main help was the Pottsville instructional league. "I learned the basics at an instructional league in second grade. I just started practicing and watching basketball to get better. I also played a lot by myself," Heimbaugh said.
Some of Heimbuagh's biggest inspirations are in the NBA. Heimbaugh said, "My favorite team is the 76ers and my favorite player is currently Dangelo Russel – and my all time is Ray Allen."
Heimbaugh has made many memories playing basketball. Heimbaugh said, "When it comes to my favorite memory, the sixth grade Crimson Saints tournaments, especially the Saint Ambrose tournament, when the boys and I grinded out a championship."
Heimbaugh is always practicing to get better. "One thing I can do to get better is to practice harder defense and being in the right place," Heimbaugh said.
Heimbaugh's favorite sport is and always has been basketball. Heimbaugh said, "Basketball has always been my favorite sport, I love it."
To continue playing at a high level of talent, Heimbaugh can't take any days off. Heimbaugh stays in shape and stays fit all off season. "I lift all off season and workout with the team, along with side workouts with shooting coaches and Nick Schlitzer," Heimbaugh said.
Not just athletes but everyone in general has days that aren't going too well. When Heimbaugh has one of these he tries to remain chill. "When I'm not doing to well I try to stay relaxed, focused and keep my head in the game," he said.
Most players have an inspiration or someone that inspired them to play. Not so much for Heimbaugh. He said, "Nobody really inspired me to play. I saw a sign up sheet in second grade and decided to try it out. I ended up falling in love with the game."
Heimbaugh's favorite is and always has been basketball. Heimbaugh said, "Basketball has always been my favorite sport; I love it."