Drama Club Director Reveals the Spring Musical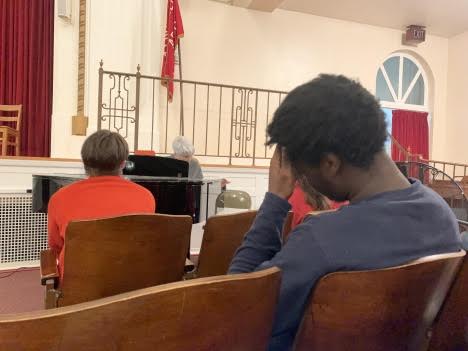 The yearly anticipation of trying to find out what musical PAHS is doing is over. The Crimson Players found out on Wednesday, September 28 that they would be doing a production of Guys and Dolls. After five weeks, Maria Malek, drama club director, has finally revealed the spring musical. There were ten musicals in all. The Wizard of Oz, The Scarlet Pimpernel, All Shook up, Man of La Mancha, Big, The Little Mermaid, Anything Goes, Frozen, School of Rock, and last but definitely not least Guys and Dolls. Assistant director Amy Babcock played a game of Simon Says for the drama club students to figure out what musical they were doing. Once the drama kids had been told to sit down because they were "rocking the boat" everyone knew that the spring musical would be Guys and Dolls. "Sit Down, You're Rockin the Boat" is among the musical's most known songs. 
"I initially wanted to do the Scarlet Pimpernel because no one had ever heard of it, and I thought it would make people want to come see it. But, when I think about it now, I think that Guys and Dolls is perfect for our club," said Sophomore, Connor McGowan.
Guys and Dolls is a musical by Abe Burrows and Jo Swerling that takes place in Manhattan and follows the story of a man named Sky Masterson. He falls in love with Sarah Brown, while Nathan Detroit has been engaged for fourteen years to Miss. Adeline. It tells the story of a happy life after World War ll. There are four main characters and the ensemble features various male parts. The whole musical is two hours long. The musical performed by its original cast has received many acclaimed Tony Awards: Best Musical, Revival, Lead Actress, Direction, Scenic Design, Lead Actor, Choreography, and Lighting Design. 
"I'm excited to do a new musical that isn't princess themed. Freshman year, we had done the Pirate Queen. Sophomore year, we did Cinderella, and last year we did Anastasia. I think Guys and Dolls will be a fun change of pace," said Senior, Madelyn Strauss. 
Upon having a production of Guys and Dolls in the Spring to look forward to, the drama club has many events coming. The club is selling lollipops as a fundraiser and they will also be performing at an event called MADcap in November. MADcap is an event that lets past drama club members perform. It is Mrs. Malek's twenty year anniversary of being the drama club director and this MADcap event will feature songs from past musicals like Shrek, Les Misérables, Pippin, and PAHS's most recent production, Anastasia. It will also feature alumni from the past twenty shows. 
"I think that Guys and Dolls will be a great show for the drama club to perform. I used to want Don Quixote, but I'm pretty much convinced that Guys and Dolls will be better," said Sophomore, Robert Rulavage.
Leave a Comment