Fall recipes to spice up your season
Coming home from a long day to the worst meal your mom can make will bring down your entire mood for the rest of the night. Instead of getting in fights with your family members, maybe rethink your family meal for the day. I put together four recipes that you can make for your family and friends to get yourself ready for the holiday season. Enjoy the taste of new things in your family with these festival dinner meals! 
Easy Crockpot Chicken Noodle Soup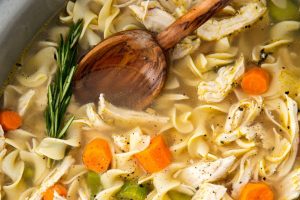 INGREDIENTS
1 1/2 lb. boneless skinless 1 large onion, chopped
3 carrots, peeled and sliced into coins
chicken breasts
2 stalks celery, sliced
4 tsp. sprigs fresh thyme
4 tsp. sprigs fresh rosemary 
3 cloves garlic, minced
1 bay leaf
Kosher salt
Freshly ground black pepper
10 c. low-sodium chicken broth
8 oz. egg noodles
This flavorful meal can be your new recipe for thanksgiving. Chicken noodle soup is an easy meal to make for you and your family. This time of year is when everyone gets a bad cold and chicken noodle soup can help soothe your symptoms.
Ultimate Mashed Potatoes
½ cup unsalted butter, cubed, cold
2 teaspoons kosher salt
freshly ground black pepper, to taste
chive, finely chopped, for serving
2 lb Yukon gold potato
½ cup whole milk
½ cup heavy cream
8 cloves garlic, crushed
Mashed potatoes are the best side of any meal you make. Thanksgiving is about a month away and what is a better way to try something new for the holiday. Making mashed potatoes is a simple side but you always need to have it. 
Chicken and Gnocchi Soup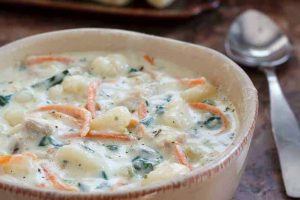 INGREDIENTS
4 tablespoons Butter
1 tablespoon extra virgin olive oil
1 cup finely diced onion
1/2 cup finely diced celery
2 garlic cloves, minced
1/4 cup all-purpose flour
1-quart half-and-half
28 ounces chicken broth
1/2 teaspoon dried thyme
1/2 teaspoon dried parsley flakes
1/4 teaspoon ground nutmeg (optional)
1 cup carrots finely shredded
1 cup spinach leaves coarsely chopped
1 cup chicken breast cooked, and diced
16 ounces package ready-to-use gnocchi
Just like before, soup is a great thing to make around Thanksgiving. This soup is a reminder of the famous gnocchi soup from Olive Garden. This rich and creamy meal can leave your mouth watering with all types of flavors.
Pumpkin Alfredo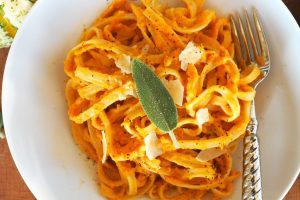 INGREDIENTS
1 pound fettuccine pasta
6 tablespoons butter
4 cloves garlic, minced
1 cup pumpkin puree
1/2 cup grated Parmesan
3/4 cup half and half
salt
pepper
1/2 teaspoon fresh grated nutmeg
1/2 cup pasta water
Pumpkin is the main spice in the fall season. Alfredo is a commonly used sauce and adding some spice to your pasta might be the thing you need. With some fresh pumpkin and noodles, you can make a holiday dinner to celebrate autumn.  
Leave a Comment