ETC scavenger hunt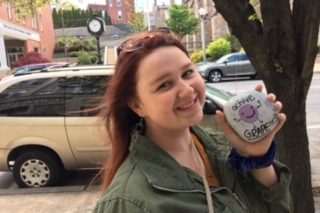 Oh the joys of staying home. From annoying siblings constantly antagonizing you, to the nag of schoolwork deadlines rattling in the back of your mind. Don't worry, the ETC staff can very well understand.
As important as school is, so is your mental health. What better way to give yourself a well deserved break rather than going on an adventure outside.
According to UNC Health Talk, "Walking has been proven effective in reducing anxiety and depression, and there is further evidence that walking in nature improves those results even further. That's because different parts of our brain activate in nature. Our mind calms, leading to physical changes including a reduction in heart rate and blood pressure."
So now here's a task to accompany you on your walk. Placed around downtown Pottsville are painted rocks. Yes, you guessed it… A scavenger hunt! On the back of each rock is a certain message. Students are supported to get active outside; however please remember to be safe. Wearing a mask in public, social distancing and frequently washing your hands are highly encouraged.
If you're more of an artistic person, you are more than welcome to paint your own rocks. Did you know drawing and painting also have many health benefits?
According to Dr. Prerna Kholi, "It doesn't matter if it is your art or you are looking at someone else's work. Looking or engaging in any artistic activity engages with our emotions. These emotions are present in the same part of the brain which releases chemicals for love. Thus, when you look at art or create an art your brain releases chemicals which increases your empathy. Empathy helps us to understand our emotions and others emotions better. Hence, becoming more empathetic helps you in understanding situations and your loved ones better. Thus, decreasing levels of stress and stressors."
Well with that said, below are some photo hints of where these rocks can be found. Please remember to be safe, we are in this together!