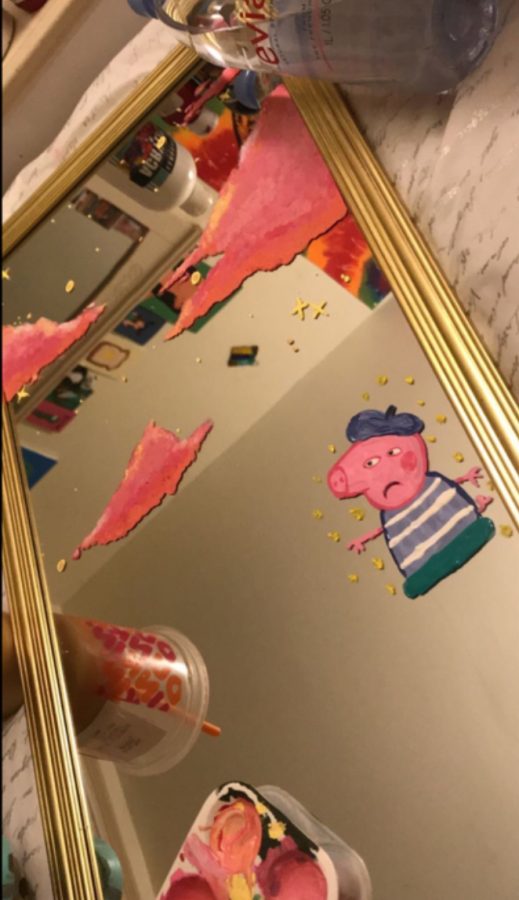 Photo by Alexis Shilling
Why is Peppa Pig so relevant on social media and what is the animal's impact? Peppa Pig is a popular children's show that airs on Nickelodeon from BBC. Whether high school students like to admit it or not, we've all watched.
"I used to watch it when I was younger. I thought she was funny because she honks all the time," Junior Carter Yeager said.
The anthropomorphic seven foot pig has gained popularity on social media over the past few months through memes which contain weird facts about her.
Another way she rose to fame was with the "MOMO challenge". This social media hoax about scaring younger children through clips inserted in their programming was reported to be found in Peppa cartoons.
Peppa has even been reported as a social problem in some parts of the world. China's government decided that the pig promotes gangster attitudes.
French teacher, Miss Nicole Stiles, a fan of the show, said, "China has a history of banning anything they don't politically always agree with, but I don't think they should dictate a child's show."
Clearly some people don't take China's ban seriously.
Junior Camden Deibert said, "China mad because the show has deep deep criminal violence."
Freshman Nathan Colna said, "I disagree with the ban because whenever you're sad you gotta watch Peppa."
Whether Peppa and her family are popular on social media for rebellion status, or for the laughs she brings to meme culture, most can agree she's pretty much a household name now.
"I absolutely love Peppa Pig. For my eighteenth birthday my nana bought me a big Peppa stuffed animal. My favorite video of her is when she cannot whistle and she hangs up on the phone with her friend. I annoy my mom by talking like Peppa," said senior Reilly Babcock said.
Another way people have been laughing along is through Tiktok, a popular app used by teens. There are thousands of Peppa Tiktoks including drawings of her or people making fun of her.
Junior Emma Smith said, "Peppa is the most savage gangster I've ever met. She is straight out of the hood born and raised!"