Girls soccer wins the Schuylkill League Championship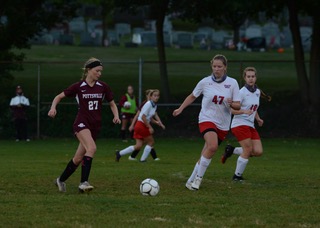 Tuesday, October 20th Pottsville Girls Soccer beat Williams Valley 5-1 in the first round of playoffs. This win led them to the Schuylkill League Championships facing Minersville Thursday, October 22nd. Pottsville scored with 5 seconds left to make the score 3-2 and took the Schuylkill League title home. Throughout the regular season the soccer team held a record of 11-1.
Sophomore soccer player, Abby Woodford said, "Going into the game I just had to stay positive. You never know what the outcome of the game is going to be so I knew I just had to go out and play my best."
Senior Lexy  Maccarone and one of the captains of the soccer team said, "My mindset going into the game was to not worry and play my game. I wasn't worried much since we played them before in the beginning of the season, due to that we knew their game."
All playoffs and the championship game were held at the North Schuylkill turf football field. Playing on turf is much different than real grass because the ball moves faster.
Junior Ava Goodman, one of the captains of the team, said, "It is not really hard to adjust to playing on turf. The ball moves much faster which is good. It's very flat so it makes all of our plays smoother so that we can keep the ball on the ground and play to feet."
Defense has a big part in the game by keeping the players from taking shots on goal.
Freshman soccer player, Megan Hoak said, "For the game our strategy for the defensive line was to communicate, pass to feet, and to just get the ball up the field to an open player."
Minersville scored the first goal due to a foul in the box. The game didn't stay 1-0 much longer when Pottsville scored to tie the game in the first half. During the second half the score was tied 2-2 when Goodman broke through the defense and scored with 5 seconds left in the game.
Goodman said, "It made me feel relieved, I was just praying it was going in. It felt good after the time ran out but we all worked hard and it paid off."
COVID-19 did not affect the playoffs and championships games this season. Everyone was permitted to attend but had to wear a mask and social distance.
Pottsville Crimson Tide girls soccer  team takes action against the Blue Mountain Eagles on October, 31st for a district game.
Leave a Comment