Back In Time: Test Your Knowledge Of Crimson Tide Baseball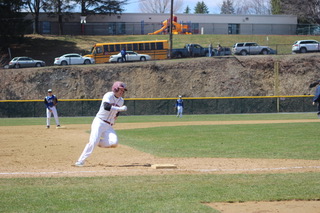 From the Nabholz family to the Hinchliffe brothers to Travis Blankenhorn, these athletes are some of the most successful baseball players in Crimson Tide history.
With the influence of the Pottsville Area High School athletic program, everyday athletes have been turned into professional sports icons.
Blankenhorn was the first to become a professional baseball player. Blankenhorn said, "It felt good knowing I was starting my pro career. It was something I was working for ever since I was a little kid."
Blankenhorn has held many local camps in areas of Pine Grove and Schuylkill Haven, and provided other helpful training for the youth of all ages. Blankenhorn said, "The keys to staying healthy are training and eating right which keeps my body ready to go. It's vital to keep healthy to stay on the field and have a strong mental game."
Nabholz looks up to his dad in hopes of also making it to the MLB. Noah Nabholz said, "It feels awesome that my Dad was in the MLB, and yes that has motivated me my entire life to try and follow his footsteps."
Noah's dad got him into baseball at a very young age. "I have been playing baseball since I could remember. I would probably say my Dad got me into it first." Said Noah.
Noah also has an older cousin with big intentions. His name is Eli Nabholz.
Eli, who has also gone professional now, has dreamed of making it to the MLB his whole life. Eli Nabholz said, "Growing up I always dreamed of playing professional baseball and always believed that I could do it. There were times I thought it might not happen, but I always believed that I was capable."
As he mentioned earlier, he had doubts during his baseball career, but that didn't stop him from becoming a great athlete. Eli Nabholz said, "When things did not go my way in baseball, I always had the support of my family and their belief kept me going."
Connor Hinchliffe is far away from his first MLB game, but he is glad he made it into the professional world of baseball. Hinchliffe said, "Although I may be far away from playing in an MLB game, it's an honor to be playing professional baseball. Playing in the Major Leagues was a dream of mine as a little kid and to know that I have a chance to do that is amazing."
Big time athletes often draw on their inspirations to motivate them into improving as players and teammates.
Hinchliffe said, "One of my biggest inspirations are my parents. They've taught me a lot about sports and life in general and I look up to them every day. Baseball wise, Derek Jeter was an inspiration to me because of how he conducted himself on the field and as a leader."

Loading ...

Loading ...

Loading ...

Loading ...

Loading ...

Loading ...

Loading ...

Loading ...