Everyone has a "why" for the sport that they play, whether they play it for a specific person or just for personal interest. Unfortunately, not everyone knows their "why". Knowing your "why" changes how you play the game, and it changes your perspective on how you as a player can do anything.
Most players that represent the Pottsville Area sports' teams know their why. Here's a few:
Girls' Basketball: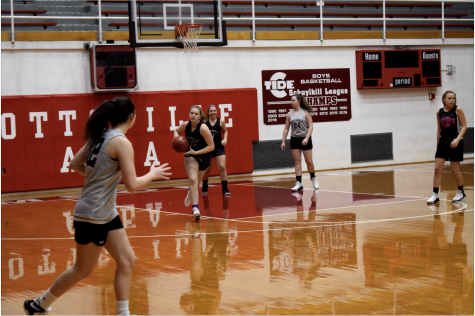 Photo Credits: Destiny Angel
Junior Kaile Conrad sprints up the court, looking to make a pass to freshman Jill Guzick at one of their practices. Conrad was a forward on the Varsity Girls' Basketball Team for the 2018-2019 seasons.
"My aunt Patty inspired me to play because she played in high school and held a lot of records. I play because I 'breathe' basketball. I work hard 3-4 days a week with my team," senior Kaile Conrad said.
"No one really inspired me to play basketball. I played as a kid because all of my friends did and I fell in love with the game instantly. I play basketball because basketball has taught me so many life lessons that I will cherish forever. It keeps me in shape and it is something that is extremely fun to me. I have worked with the team every week since June. We put in a ton of pre season work and we train extremely hard," senior Madison Dalton said.
Girls' Soccer: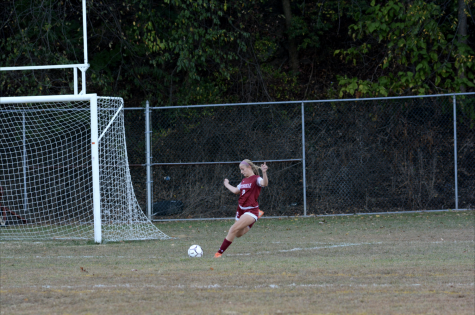 Photo Credits: Destiny Angel
Freshman Livia Hable puts the ball in play against the Jim Thorpe Olympians. Hable's primary position on the Varsity team was center defense. The Lady Tide Soccer Team defeated the Olympians 3-2, September 24th, 2019
"My dad inspired me to play sports in general, but I decided to give soccer a go. I play soccer because it is a very active sport and I love the excitement the sport brings to my life. On average, I work with the team every day, whether we have practice of a game," freshman Livia Hable said.
"My older sister inspired me to play soccer since she was playing. I play soccer because I'm passionate about it and to me it's fun. I work with the team almost everyday ; soccer takes up a majority of my time ," sophomore Ryleigh Cook said.
Girls' Volleyball:

Photo Credits: Jena Reilly
Freshman Gwen Biddle waits in a defensive stance, for the opposing team to serve the ball back to the Lady Tide Volleyball Team. The Lady Tide played Pine Grove on 9/24/19
"I was inspired to play volleyball by Madison Eroh and Amelia Painter. I play volleyball because I enjoy the sport and the new family that came with it. I also love the thrill and adrenaline I get from digging. The volleyball team works everyday. If we don't have a game, we have practice ; the only days we don't have practice is football Fridays ," freshman Gwen Biddle said.
"My brother inspired me to play volleyball because when Pottsville had a boys' volleyball team, he was apart of the team. He would always play with me in the backyard when I was growing up. I play volleyball because I love the sport. I enjoy playing volleyball so much ; it is very fun to me and it makes me happy when I'm playing. During the season, we practice a lot, plus we have a lot of games during the week and on weekends. In the off season, most of us play on the same travel team, so we get to practice and play together in the off season , " sophomore Julia Plachko said.
Football: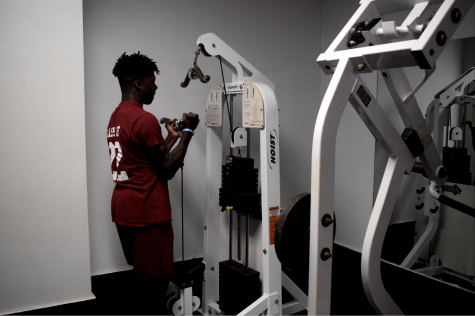 Photo Credits: Jamilah Phillip-Johnson
Sophomore Travontai Davis, a running back for the Tide, lifts in the weight room with the football team. Davis used arm strength to pull the given amount of weight on the machine. Davis' amount of focus showed how driven he is for his lift.
"One person who inspired me was my dad, even though he doesn't live with me. He was a football player as well. I play football because it helps me get my anger out and it really calms me down. I work with the football team everyday, besides the weekends, and we even work in the summer , " sophomore Travontai Davis said.
"No one really inspired me to play football. I play football to stay in shape. I work with the football team very often ; I'm at almost every practice and I play in almost every game," freshman Christian Phillips said.