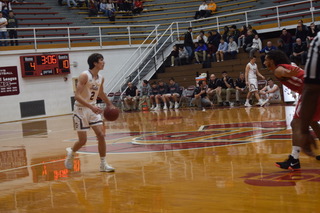 Courtesy of Jamilah Phillip- Johnson
With the 2019-2020 Boys Basketball season starting up, the boys are putting on a tough grind to be bigger and better than last year.
Practicing and getting shots in before the season arrives is important to Junior Varsity player Nicco
Nicco Heimbaugh said, " We've been working all offseason since last summer. We lift and workout a few days during the week. We have had some scrimmages against other schools here and there. Our team has something big and different coming this year, and we can't wait to show what we got for the crowd and fans."
Senior Mason Barnes said, " I am preparing for the upcoming season by going to Sunday workouts with the team and getting as many shots up as I can since football season is still going on."
Having fun and enjoying the game is always key.
Junior Nico Boris said, "What I enjoy most about playing basketball is the competition and us winning every season."
With it being the last year for the seniors, they look forward to memories that will last a lifetime.
Barnes said, "I'm going to miss my teammates the most because I spend most of my day hanging out and and practicing with them. They'll always be a part of my life. I'll also miss the small town fanbase that comes to the games to support our team."
The first Boys Basketball game is December 6, 2019 against Glen Mills. PAHS Publications will be live streaming this game www.pahstideslines.com.