Christmas Recipes to make you jolly
Christmas is coming fast and the long week consists of being stuck with your family. Staying inside with the warm smells of a home cooked meal, the cold biting your snow covered house, the sugar sweet taste of Christmas cookies and cake.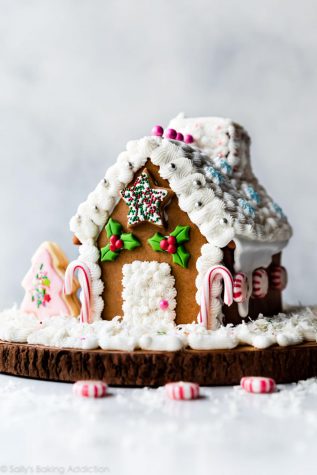 Ingredients for a Gingerbread House:
1/2 cup (1 stick) butter, at room temperature 1/2 cup dark brown sugar
1/4 cup light molasses or dark corn syrup
1 tablespoon cinnamon
1 tablespoon ground ginger
1 1/2 teaspoons ground cloves.
1 teaspoon baking soda
2 cups all-purpose flour
2 tablespoons water
For assemble and decoration:
Melted white chocolate or Royal Icing, recipe follows Gumdrops, licorice and peppermint, as desired
Royal Icing:
1 pound (3-3/4 cups) powdered sugar, sifted if lumpy
1 to 2 large egg whites, or substitute 4 teaspoons packaged egg whites and 1/4 cup water 1 teaspoon almond extract, vanilla or lemon juice
This gingerbread house can be decorated with anything you desire. While your family is around the dinner table you can make this treat for Christmas fun.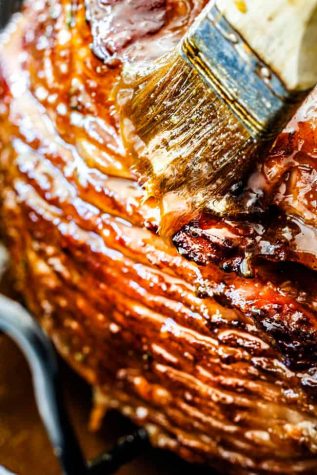 Ingredients for a brown sugar mustard glazed ham recipe: 8-10 pound
(4-5 kg) bone-in fully cooked ham,
1/2 cup water
1/2 cup unsalted butter, reduce fat or full fat
1 cup brown sugar
1/2 cup honey
2 tablespoons Dijon mustard. 1/4 teaspoon ground cinnamon 1/4 teaspoon ground cloves
4 cloves garlic, smashed
For a Christmas meal we need a big center piece. Try this brown sugar mustard glazed ham that everyone will love. This is to spice up your meat and make the dinner even more enjoyable.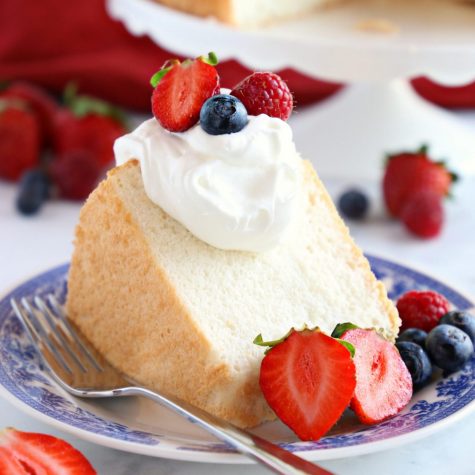 Ingredients for Angel food cake: 1-1/4 cups large egg whites (about 9)
1-1/2 cups sugar, divided
1 cup cake flour
1-1/4 teaspoons cream of tartar
1 teaspoon vanilla extract
1/4 teaspoon almond extract
1/4 teaspoon salt
Dessert is the many things to look forward to. A Christmas dinner then followed by an angel food cake can be a great way to end the dinner.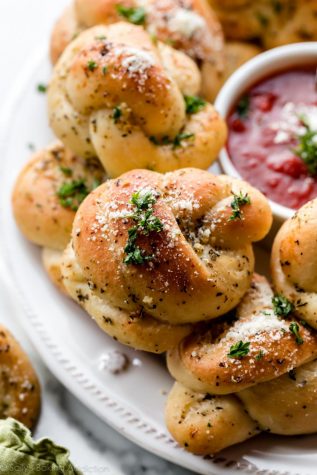 Ingredients for garlic knots:
1 and 1/3 cups (320ml) warm water (between 100-110°F, 38-43°C)
2 and 1/4 teaspoons Platinum Yeast by Red Star (1 standard packet)*
1 Tablespoon (13g) granulated sugar
2 Tablespoons (30ml) olive oil
3/4 teaspoon salt
1/2 teaspoon garlic powder (see note)
3 and 1/2 cups (438g) all-purpose flour (spoon & leveled), plus more for hands and work surface
Topping
5 Tablespoons (70g) unsalted butter, melted
3 garlic cloves, minced or 1/2 teaspoon garlic powder
1 teaspoon Italian Seasoning*
1/4 teaspoon salt
optional after baking: 1/4 cup grated Parmesan cheese optional after baking: 2 Tablespoons chopped fresh parsley
Maybe you need bread to go with your dinner, so spice it up with garlic knots. Try having a different recipe than you had at last Christmas can be even more delightful.
Leave a Comment