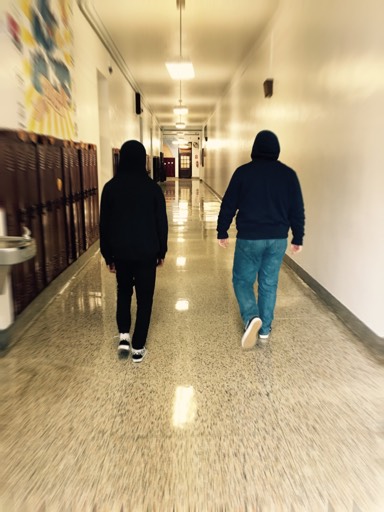 'Tis the season to dress warmer. Hoodies seem to be the mood during this time of year, but there is a time and place for them. One of those places is not in school during the school day. At the end of October, PAHS has announced that they will be confiscating the hoodies of students for the whole school year if they are caught wearing them.
"It's unrealistic to confiscate hoodies for the entire school year. It makes sense to take it for a day if a student is warned and they continue to wear their hoodie. That makes sense, as the student is breaking the rules and must be admonished. However, taking it until June, especially if that is a student's only hoodie, is excessive and irresponsible and it creates an unnecessary hassle," Eli Brennan said.
The original dress code was put into effect on May 13, 2009. In this dress code, it stated that hoodies are not allowed to be worn in school during the school day. Now as time goes on, things around us change, and on June 6, 2018, this dress code policy was revised. One thing that changed, or one more restriction that was put into place, is that no turtlenecks are allowed to be worn in school during the school day.
"At my old school, we obviously had a uniform since I went to Catholic school and while they enforced a no hoodie policy, they really didn't care that much. Like they understood that the building was cold and they allowed us to wear them in classrooms just as long as we took them off walking to class. And they would never threaten to take your hoodie all year," Amelia Painter said. "Honestly, I personally don't really care because I don't wear hoodies in school, but I would be irritated if they kept my hoodie all year."
Hoodies are still restricted for the students to wear. This restriction has caused students to be concerned on the reasoning behind hoodies being restricted.
"The reasoning is because it is a safety concern. The building is plenty warm enough not to wear it. We have people receive detention, in-school suspension, and now we are going to confiscating the hoodies to hopefully send the message," Principal Mrs. Hummel said.
Mr. Halenar, a teacher at PAHS, also known as the "big bad wolf" to students, is committed to the no hoodie policy. If you are wearing a hoodie and you make eye contact with him in the hallway, you might as well take your bookbag off right there and take your hoodie off because he will make you do it anyways.
"To me, rules are rules, and as staff, if we are told to enforce policy, we need to enforce policy. Students should be mindful that individual teachers who do enforce the rules are only following instructions from their superiors," Mr. Halenar said.
Seniors at PAHS, who have dealt with the no hoodie policy for a couple years, have their own takes on not being allowed to wear hoodies in school.
"I think that hoodies should be permitted to be worn during the winter months because the school could be very cold. Also, I think they shouldn't confiscate hoodies if a student is seen wearing one. On the other hand, during the very beginning and end of the school year when the weather is warm, students should not be wearing hoodies," Emily Peleschak said.