Freshman Bobby Walchak attends U.S. Army All-American Bowl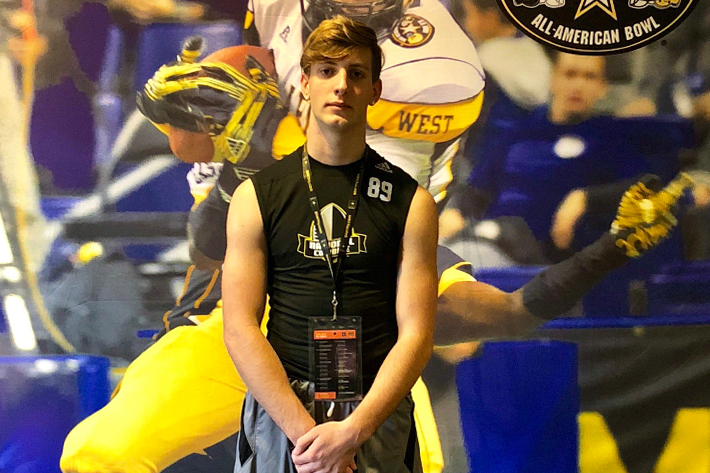 The All-American Bowl Selection Committee chose underclassmen from around the country, including freshman Bobby Walchak, to participate in the National Combine and to attend the All-American Bowl. It was all held in San Antonio, Texas, January 6. Walchak had the opportunity to be viewed by many college scouts attending the U.S. Army All-American Bowl.
"I was picked out of the top 600 in the country by a committee that reviewed my film, and I attended the camp to show my athletic ability," Walchak said.
To be chosen for the National Combine is no easy task. Thousands of underclassmen apply to try to be a part of this event. The top 600 underclassmen get chosen out of all the applicants. To be chosen to attend as a freshman is rare.
The U.S. Army American Bowl is a football game between 90 of the best senior football players in the country. The team is divided between the West and East. Many of the seniors get recruited by a school where they will continue their education and football career.
The National Combine is a similar event, but instead of being for seniors, it is for some of the best underclassmen football players who were chosen out of a competitive pool. Athletes like Walchak trained over three days at the event in order to improve their abilities and be noticed by recruiters.
"While I was at this camp, we did things like the broad jump, vertical jump and 40-yard dash. We also had one-on-one competitions against cornerbacks, with the quarterback throwing at us," Walchak said.
As a freshman, Walchak played on the junior varsity and varsity football teams at PAHS. He mainly played running back, wide receiver and defensive end. He was one of the few freshmen to attend the event.
"I learned more on how to play running back, and I also learned a lot about recruiting from the seniors committed to Division I schools. I will use the experience I learned into the upcoming football season against the opposing teams," he said.