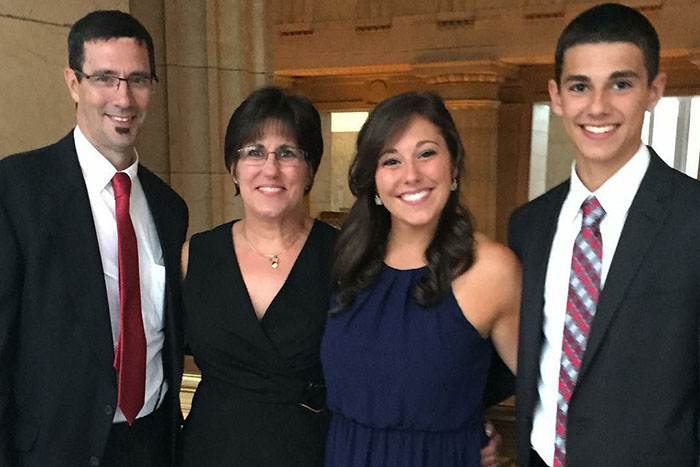 COLLIN EBLING
Patricia "Patty" Derbes Ebling passed away suddenly due to a brain aneurysm January 30. She was 54 years old. She was from Hawaii but lived in Pottsville most of her life. Mrs. Ebling was the adviser of the majorette squad for 17 years. Her son, Collin Ebling, is a junior at PAHS. Her daughter, Kaley Ebling, is a 2010 PAHS graduate.
Funeral services were held February 3 at Trinity Lutheran Church in Pottsville. The Patty Derbes Ebling Scholarship is being started up to remember her impact in the community. Donations can be made to the scholarship. The school district will also have dress down days for the teachers to benefit the scholarship fund.
"This scholarship was set up to help majorettes pay for college and remember all the good she tried to do for them. We are thinking of giving each senior some money to help more people instead of one big winner. With all the donations, my family and I are very thankful and it is a nice way to remember her by helping the kids she loved to help," Collin said.
Mrs. Ebling was a majorette at PAHS. She went to Penn State University to continue her education.
"Patty helped me for long hours developing routines and practices with the squads to make them outstanding and in sync. Patty and I always had the same thought process and vision for the squad to advance them. Patty will be remembered by her talent in twirling, her positive look on things, her smile and always giving wonderful feedback to the girls. She was a mentor, and her memory will live on in the girls that she was able to teach," Mrs. Deniece Krater, band front adviser, said.
Mrs. Ebling was an active member and Sunday school teacher at Trinity Lutheran Church. She was also known for her love of Oreos and her positive attitude.
"My Aunt Patty and Deniece would create our routines for pregame and the halftime shows. She was always so excited when we were done performing, and proud of us. Growing up with her was super fun, and she definitely encouraged my majorette career," freshman Jordyn Derbes said.