Thanksgiving Preview was Rather Filling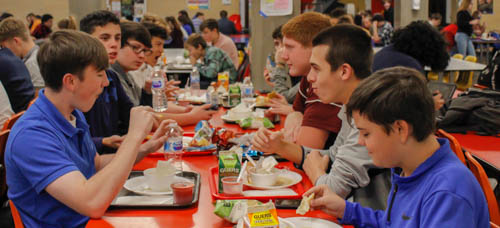 Ding! Ding! The timer goes off for the oven as you sit at the table. The scent of turkey and stuffing reaches your nose as you breathe in the soothing aroma of homemade food. Looking around, you see smiling faces and decorations- the table in front of you full of delicious food and surrounded by people who are grateful to be a part of the celebration.
The cafeteria workers at Pottsville Area high school brought the Thanksgiving spirit to students on November 14, 2019! Students were so happy to see this meal scheduled on the menu. 
Senior Kevin Devine said, "I liked the Thanksgiving preview because everything mixes together. The gravy, turkey and mashed potatoes are all very good." 
Sophomore Grace Murphy said, "I look forward to the Thanksgiving preview every year; it definitely is my favorite lunch!"
But not everyone loved the meal, especially when compared to old family recipes.
Freshman Chris Cicero said, " The mashed potatoes were runny and that meat was not cooked right."
Freshman Xander Hirch said, "The stuffing was hard and the gravy tasted like water."
The Thanksgiving preview meal consist of turkey in gravy, mashed potatoes, green beans, fruit selection, cookie, pan roll and milk. The pan roll is handmade by the cafeteria workers. It is also served with the school's Mac and Cheese lunch and is a student and faculty favorite.