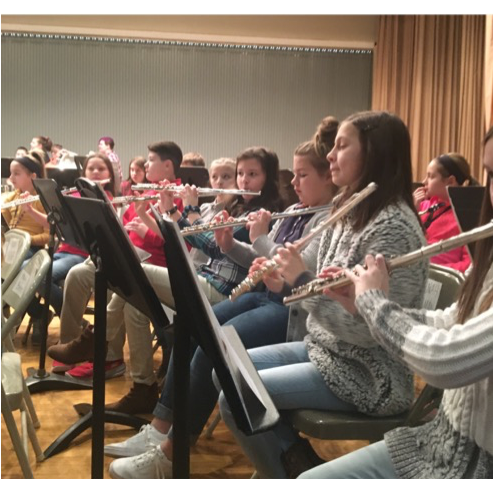 Photo courtesy of Mrs. Kayla Kurtz
Students who wanted to participate in our band had the opportunity to partake in virtual music lessons this year. 5-8th grade students take part in a 15 minute music lesson each week instructed by either Mrs. Kurtz or Mrs. Houtz. Both teachers are using Google Meet just like other classes. If a student can't attend the virtual lesson, they are recorded. Students are expected to turn in an assignment each week so that Mrs. Kurtz and Mrs. Houtz can track their progress.
Mrs.Kurtz is directing a rock band called Apex. The rock band plays different genres of music such as rock, classic rock, and punk. The band members consist of guitar: Bo Hess, Bass: Aj Steidle, drums: Ava Ciarvella, and vocals/keyboard: Annabella Chaklos and Dugan Szeliga. Apex is trying to coordinate band practices for when the pandemic dies down using Google Meet. Apex plans to practice as soon as it is safe.
Mrs. Houtz and Mrs. Kurtz are hopeful that traditional band and choir can continue in the future, but in the mean time, they say that it's important to keep practicing!