Prom Past and Present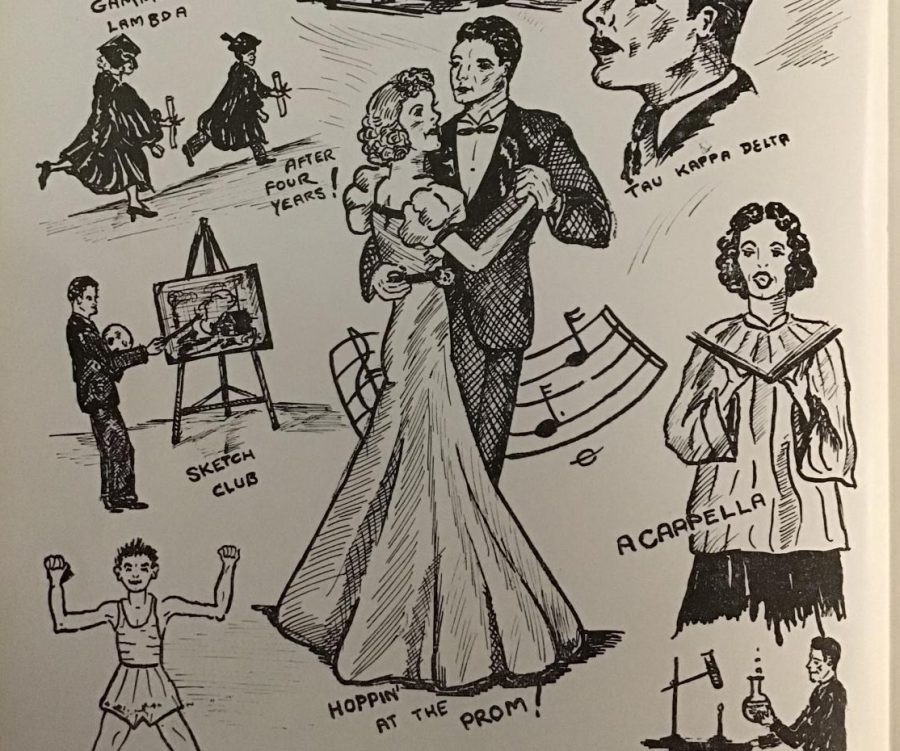 Ah, prom. A formal dance that can be held at any time of the school year where students rush to get their best dresses or tuxes, struggle to find a date and get pictures that they'll either cherish forever or be one of the sources of their many teenage regrets.
Prom's been a pop culture staple of coming-of-age stories and teen romances for decades, yet many teens do not know the event's past.
The word "prom" is short for "promenade" or an event for college-age students that originally had its roots in debutante balls way back in the late 19th century. These fancy parties held for the rich were meant to introduce wealthy daughters to the high society and potential spouses who had vast fortunes. Debutante balls were often racially segregated.
School dances were introduced to high school students in the 1920s. In the 1927 edition of the Hi-S-Potts yearbook, there is a description of an "Athletic Association Dance" held at the "Holly Garden." According to the text, "the Christmas spirit was embodied in the decorations of the hall." 
The text also discusses a "Junior Prom". "Last year, when the Class of 1927 was a Junior Class, it tried to promote a Junior Prom. We are sorry to say that it never materialized. This year, however, the ever-preppy juniors came to the front with plans of a class "hop" to be given on April 22,1927, at the Holly Garden, in honor of the Class of 1927."
In some areas, proms were off the market for a while in the 1930s. However, at PAHS there were dances and proms held in 1934 and 1937 according to the yearbook.
They were brought back in full swing in the 1950s, when a post-war economic boom and a consumer market geared towards teenagers made proms a mainstay – and a place where only the boys were allowed to ask out the girls. 
Today, invitations to prom can be given by boys or girls. Many choose to use "prompsals" to ask for a date.
"I really enjoy hearing about promposals, especially when they are creative ones," senior Daphnee Saint Juste said.
Even though Brown vs the Board of Education was implemented in 1954, some southern schools still went out of their way to hold white and black proms. One of the most famous cases of this happening was Charleston High in Mississippi, which held segregated proms in the 1960s-70s and didn't stop until 2008 when a documentary was released showing the injustice.
"I think that Charleston High School's segregated prom is horrible. Segregation should have never occurred let alone continue until 2008," senior Adam Kelly said.
Meanwhile, the decade between the 80's and today were pumping out movies like Pretty in Pink and Mean Girls that portrayed prom as a mainstay in teen culture. 
"I think that prom is portrayed very differently in movies than in real life. I think it is very overdramatized in pop culture. I personally believe that prom is always portrayed the same way in all movies and pop culture in general," senior Jordyn Derbes said.
Mr. William Rhodes, adviser of student council (who runs the Christmas Prom) said, "Lots of people come to prom and the only restrictions are that no adults are allowed. It's always been very tolerant and inclusive."
Freshman Genesis Harrison attended the 8th grade prom last year. She said, "Prom should be a place where kids can feel accepted or proud of who they are. It is a place where people can meet, have fun and be happy."