Writer's Corner: Annabella Chaklos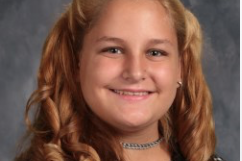 Annabella Chaklos has written several poems published here on  ETC. Though she's published three, she has written more. Out of the ones written so far, Chaklos has five favorites. When it comes to inspiration, Chaklos said the type of poetry she writes is based on the mood she's in while writing. "If I'm feeling a bit sad or strongly about something, I write poetry."
Chaklos also writes short stories. "With short stories," she said, "I usually think of a memory or a song in my head. Usually, I base my short stories off music."
Annabella has thought about writing as a career or a serious hobby, along with potentially going into psychology.
Untitled Poem by Annabella Chaklos
Together, they walk the road alone. Weaving paths, among the trees, the only sounds
are
their footsteps, and the trip of rain off the emerald green leaves. They will never know
each
other, just the patter of his torn, red sneakers, and her black, tall boots. The wind tussles
their
hair just the same, as they look for the meaning of their name. He breathes in, she breathes out.
Lonesome and confused, they look for an answer. They will never know they walk the
same
road. They fight the same dilemma, keep all their knowledge and effort into one question, "Who
am I?". They wanted to know their purpose. Perhaps it was to be known by thousands,
maybe
to be known by one. To love, or be loved, to give orders, or to grant them, they do not know.
If
only they could know, they were each other's purpose. But alas, they were too different
to be
together, and it was as if nature forbid it. Even if they were remotely close, the universe
found a
way to disrupt their meeting. He was too bright, like the day. Similar to the sun, radiating
with
joy, his smile glowed so bright it could light up any darkness. She was too dark, like night.
Her
only light was the moon, and distant stars. Her eyes were frightened, and her mouth
begged to
frown. If only they knew the sun is what gave light to the moon.